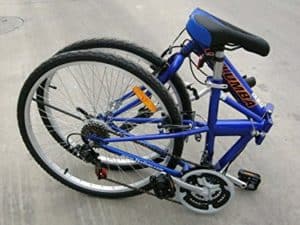 This was one product that definitely made me do a double take the first time I saw someone using one of these bikes. Well more accurately, seeing a cyclist get off, and then suddenly their bike folded up into a small easy to package little square that could be easily lifted up and packed away. This looked awesome and got me wondering about the best folding bicycles currently available.
While I grew up in Scouts (Cycling Merit Badge – anyone?), my basic 3-speed bike (yes, I said three speed – I said it was basic, didn't I?) was all I ever used. While other Scouts and Scout leaders had much more advanced bicycles, none of them certainly folded up for easy transport. We had to do that the hard way!
These folding bicycles are, frankly, the kind of awesome new take on a piece of classic outdoor gear that my brother is usually great at spotting but this time I get the pleasure because of an early morning 5 mile walk. No question with my travel habits I'm definitely interested in who makes the top folding bikes out there and what they have to offer.
How Does a Folding Bike Work?
This was one of the questions that really interested me. How did the design work so that it was fully functional and gave support in addition to still being easy to fold, pack, and move. Whoever came up with the idea, in my opinion, is frankly genius and these designs give the full support of a high quality bicycle while also having the additional bonus of being easy to fold up and store so they're still a viable option when you have an extremely cramped studio apartment, or are even renting out a single room.
There are a few basic design styles that allow for the folding of a bike, but the simplistic way of explaining it is that you have the conventional strong bike design, but with solid engineering that allows certain sections to be solidly attached as opposed to welded. This means that the fasteners must be rock solid (can't have the bike coming apart on you part way through a ride) but that smart bit of engineering can make all the difference.
There are several natural areas in a bicycle design where slight modifications can make all the difference in allowing them to adopt the more modern and versatile folding design that makes all the difference for many of us for whom space is at a premium.
If you want more in-depth information on how exactly these bikes work (personally I'm good with the simple "They do – cool!") then take a look at this folding bike article – one of the best resources I've found online in answering this question.
The Best Folding Bikes Reviewed
Researching, testing, judging, riding, and reviewing all the folding bikes out there is difficult, but it was also heavily rewarding. Obviously different people will have different standards of what makes one of these bikes elite. We do our best to take a wide array of different factors into consideration when reviewing and ranking them.
The first and foremost ranking factor is quality. Are they well built? Do they use only top notch materials? Will this bike hold up to heavy use over time? This is the most important factor by far. Following that are ease of use, warranty, price, ease of packing, and more.
However in all areas we aim to only review the absolute best in folding bikes. Without any further ado, here's our list of the top rated folding bicycles on the market.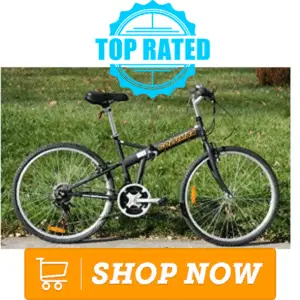 Columba 26″ 18 Speed Folding Bike
Coming in both black and blue, the price might be slightly different but there's no denying the fine construction of this model of folding bike. The Shimano 18 speed shifter is known among cyclists for its exceptional quality, and the outstanding aesthetic of both the blue (SP26S_BLU) and the black (SP26S_BLK) models means no matter which one you go with you will have a very good looking bike with the high level of functionality you want as a committed cyclist.
Featuring solid 26 inch wheels and an 18 speed shifter from the trusted Shimano brand, these bikes definitely hold up when it comes to pure cycling quality while the reliable Columba name delivers on the high level of quality you expect from this brand.
A quickly removable front handle stem means a high level of versatility and easy of use even if this is your first time with a foldable bicycle. These are models that are known for being extremely high quality while still offering the perfect introduction for beginners. That's a winning combination.
Available in blue and black, these bikes are consistently among the highest rated folding bicycles and are a great choice.

EuroMini Campo Lightweight Shimano 7-Speed Folding Bike
Featuring solid 20-Inch rims and a solid 28 lb aluminum frame, this folding bike from EuroMini is impressive in its build, design, and quality. Offering 7 speeds it can fold in seconds and is very easy to carry. Featuring top of the line Shimano components, there's a lot to love about this 7 speed bike and what it has to offer cyclists of all experience levels.
Although the name EuroMini invokes images of an overseas operation, the odd truth is that this is a USA based company that makes and manufactures the bikes in the United States. Keeping in mind the idea of choice, this bike comes in three potential colors: matte white, matte black, and yellow.
A thorough inspection of this bike shows quality design and manufacturing together. The lightweight aluminum frame is the center of a design that allows the bike to be foled in mere seconds. The Shimano components are considered top of the line and the grip style of shifter allows for seven speeds.
The adjustable stem means height isn't an issue as riders can be a touch under five feet tall to over six feet in height without issue. Multi-terrain tires means this bike is good in a variety of environments but the aluminum alloy V-style brakes will help you stop in a flash.
Add in ergonomic rubber grips, an ergonomic saddle, and excellent pedal design and you'll be very happy with this purchase of a top notch folding bike.

Brushed Dahon Mariner D7 Folding Bike
The Dahon Mariner D7 folding bike is a really interesting example of a folding bicycle, and while the beautiful brushed finish gets a lot of attention because of its remarkable aesthetic finish, the story behind this model is an interesting one. The Dahon Mariner D7 was originally designed for boaters as a bike that would be easy to fold up and store, then at any time you docked while traveling you could bring it out at port and have a high quality bicycle for supplies, getting around, or whatever else you have planned.
You on-shore travels will be faster, more fun, and more convenient when you can bring a bike out and in fact your options even open up when you have a quality bicycle wherever you go. For many long term travelers going from port to port, this is the perfect accessory to add onto a traveler's boat.
While this isn't restricted to only this use, it results in a quality folding bike that emphasizes both comfort and convenience. This bike folds to fit the smallest of boat holds, which means it is a great fit for small apartments or packing up in a vehicle. Experienced riders can go from folded to set up in a mere 15 seconds and there's no question that Dahon Bikes definitely emphasizes quality and puts in the work to deliver perfectly.
Boasting of 6 patented technologies that go into the 26 pound aluminum frame bike, there's a lot to love about the Mariner whether you boat or not. This really is an extremely well designed premium folding bicycle.
One important note, however: the bike is resistant to rust, but it is NOT rust proof. Proper maintenance and cleaning still matters.

Schwinn 20-Inch Loop Folding Bike
Schwinn is a name that has a long and well respected reputation among bicycle owners, and for good reason. For many people and for many specific types of bikes, Schwinn is one the truly big premium names that has long stood for quality and style.
This 20 inch folding bicycle is a low stand over frame in design featuring a rigid fork that makes it easy to hop on or off the bike. This is a bike that is designed to be quick to set up and good for a fast little back and forth.
The pull brakes are designed to be solid and sure stopping while the bike has 7 speeds to allow you to adjust based on how hilly or flat the area is. This commuter bike works for teenagers or adults and can be folded small enough to be brought indoors. That's pretty good peace of mind against potential theft.
Add in a limited lifetime warranty for your purchase and it's not hard to see how Schwinn continues to thrive and build its positive reputation with cyclists: both dedicated as well as casual.
This is an exceptional option that is reasonably priced, and definitely deserving of its high spot on our list of top rated folding bicycles.
Comes in three colors:
Black
White
Titanium Silver

Vilano Avanti 20″ Lightweight Aluminum Foldable Bicycle
This is an exceptionally well designed foldable bicycle from the folks at Vilano that combines a nice aesthetic look with reliable construction to deliver a reliable high quality folding bicycle.
Featuring 20 inch wheels and made from a sturdy yet lightweight aluminum frame, this bike comes with rack and fenders, a classic design, and reliable locking/latching mechanisms that allow you to ride in confidence.
Featuring 6 speeds with a grip shifter, there's plenty to like about this particular Vilano bike and there are both kickstand and water bottle mounts depending on how much you want to deck out your particular Avanti model.
This commuter bike is functional, fun, and built to last even with frequent use. Weighing in at a mere 29 lbs, it is easy to fold and carry while giving remarkable support and durability to give you the full range of mobility whether you're hitting your hometown or exploring a new port during your travels.
This is an excellent model and there's a reason the Avanti has a reputation for being a good getting around folding bicycle among actual buyers.

Ford by Dahon Convertible 7-Speed Folding Bicycle
One of the high end models of folding bicycles out there, the Ford by Dahon convertible bike is an impressive 7-speed aluminum utility bike that can be folded or unfolded in seconds. Displaying a much more impressive sense of aesthetic and style than most of the models on this list, the designers point to the classic Mustang Convertible muscle car as the inspiration for this outstanding folding bike.
Made from an aluminum body and designed as an outstanding urban utility bike, this bike is legendary among folding bicycles. Heavy duty V-breaks, quality fenders, and premium 7-speed gears means that the Ford by Dahon Convertible is really top of the line.
This is an incredibly impressive bike that is strong and durable, and the design means that you can fold up this bike and travel easily, bringing it back out when the time is right. Available in red, black, white, and yellow, this bike lives up to the name of Convertible with exceptional speed, elegant design, and incredible precision.

Xspec 20″ 7 Speed Urban Commuter Folding Compact Bike
Featuring 20 inch rims for wheel size and featuring a solid 7-speed setup this compact folding bike is an outstanding example of what a good folding bike brings to the table. While some basic assembly is required, once put together no tools are required to fold and unfold.
This is a convenient outstanding compact bike that features a Shimano gear system, front and rear fenders, and even a bike rack. Weighing approximately 40 pounds fully put together, this bike can be folded up in about 15 seconds making it easy to fold up and put away.
Add in unique folding pedals, steel V brake, and a streamline frame design, & more. These bikes offer all the advantages that come with a folding bike and at a lower price this one is far more affordable for students and others who find themselves on a really tight budget.
Xspec folding compact bikes are available in three colors:
A solid choice that is far more economical than most of the others on this list, it's not the top premium model but it is a solid folding bicycle that gets the job done at a price that won't bust the budget.

ORKAN Folding Mountain Bike
ORKAN is the last name on our list of conventional folding bicycles, and it is one that takes a focus on the all too often ignored mountain bikes. Most folding bicycles are built for off dock and urban riding – and there's nothing wrong with that. No doubt that's actually the main market, but this is for people who want a bike that is still easily portable yet holds up to a little bit more.
Available in the two classic colors of blue and black, this folding bicycle from ORKAN is a Shimano 7-speed that is known for being reliable, easily adjustable, and delivering some seriously good quality for its mere 38 pounds of weight.
The solid HI-TEN frame safely handles up to 300 pounds of weight while solid power steel v-brakes means you have the ability to stop quickly when you need to. The only major complaint? While good for up to 300 lbs, many buyers report the quality of the ride going down once the cyclist went above 250 lbs.
Still there's a lot to like about this bike and there's a reason it make our list of the best rated folding bicycles currently available.

SWAGTRON SwagCycle Folding Electric E-Bike
If we go by just overall ratings there's little doubt that the SwagCycle folding electric e-bike by SWAGTRON is the absolute top of this list. In fact, you can easily argue it is the most impressive overall of all the various folding bicycles on this list, but it's also at the bottom here because it is distinctly different from the other examples of portable travel bikes on this list.
That's because this is an electric e-bike. Featuring a 10 mile range, collapsible frame, and solid handlebar set up that allows for easier balancing, if you're looking for something a little bit different that still folds up and yet helps you get out and about then this is the one for you.
Tested by thousands across the nation, there is a lot to like about everything this e-bike has to offer. If you are in need of a reliable and exceptional motorized bike that is still environmentally friendly and delivers on promises of quality then it's time to give a serious look to this awesome product.
You won't be sorry!

In Conclusion
There are many different types of folding bikes out there, and while the electric one is the highest rated, it also speaks to a very narrow group of individuals as many people who absolutely love folding bikes are still all about the fitness, they just love the portability and space saving features that a folding bicycle can provide.
That being said, all of these models get the job done and whether you choose to go with one of the "normal" models or with the e-folding bicycle, these bikes are sure to deliver and as the following video shows, for some people these folding bicycles are outright life changing in nature.
Interesting video on the awesomeness of folding bikes