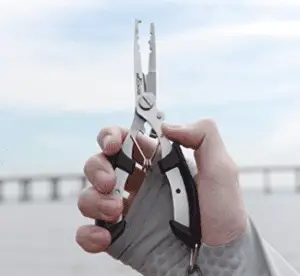 Remember the last time you excitedly showed off your new pair of fishing pliers to your fellow anglers? Of course not. Because as useful and important they are as a tool, pliers don't have anywhere near the sexiness of that brand new bass rod, high action open-faced reel, or that brand new fishing boat conveniently left on the trailer in the driveway to show off to any fellow anglers who might live in your neighborhood or even just be passing by.
That being said, it's often the small and less exciting equipment that proves to be important, especially since it is easy to forget about and therefore often times you don't have it when you need it most. After all, you're not going to forget your fishing rod, but if you don't have your tackle box packed right, it's very possible to end up with a less than ideal situation once you're out and already on the water.
No matter how small the piece of equipment, you'll enjoy the most out of your fishing trips if every single piece of equipment you have is top of the line. If you want fishing pliers that make it a lot easier to get those tricky hooks out without risking a barb though the hand, then read on for our pick of the eight best fishing pliers for anglers currently on the market!
South Bend Bent Nose Pliers
The South Bend bent nose pliers take out number one spot for the best fishing pliers currently available, and in a marketplace full of solid designs and well constructed options, these still manage to stick out as being top of the elite. Orange and green textured grip handles are designed to be an effective no slip grip that allows individual fingers to each have remarkable purchase, especially when used in conjunction with a top rated fishing glove, while these 8-inch pliers are made from high carbon steel and then plated in chrome.
The South Bend pliers can be used for both gripping an object firmly without worry of losing purchase as well as well as working as a wire cutter, as well. Many anglers use a pair of good South Bends not just for their boat but also replace old needle nose pliers in their tool box completely with this versatile and effective pair of pliers.
They are relatively inexpensive, extremely well made, and are going to be a favorite among many anglers because of the exceptional design and construction. They get the job done and have firmly earned their place on the top of this list of the top rated fishing pliers reviewed.
If you're thinking about buying a pair of these don't hesitate – it's a solid choice.

Piscifun Aluminum Fishing Pliers
The reliable Piscifun aluminum fishing pliers have so far earned high marks from a variety of fans for being lightweight, effective, and versatile, and coming with a bungie cord & mini-carabiner combination that is easy to hook to a loop in your blue jeans so they're always right there on hand when you need them. An ergonomically designed handle means you get a solid grip without wearing out the ligaments or tendons in your hand.
The design is excellent. These pliers work as an outstanding hook remover, while a very clear line cutting tool is available but tucked to the side to avoid any chance of accidentally clipping the line when you don't intend to. The lanyard is a great touch so you're not at risk of dropping yours into the water (been there, done that) or even having to waste time digging through a tackle box to find a pair.
These are designed to be resistant to rust and corrosion, giving them a longer use life in an environment where you can expect them to get wet and exposed to the elements quite often. They come with a protective nylon sheath for when they're not in use, and the general feedback from anglers has been very strong so far.
There have been some isolated reports here and there of an occasion pair that doesn't seem to hold up to heavy line clipping as well as they'd like, but these are definitely the exception compared to the general 5* or 9/10* ratings that are the rule.

Zitrades Aluminum Fishing Pliers
Made in Japan, Zitrades brands itself as a good pair of fishing pliers that uses superior manufacturing and materials in order to create top notch pliers that can put up with even the roughest of saltwater fishing conditions. Even advertised as being a saltwater sheath braid cutter, these pliers definitely have a lot going for them – enough to make our list of the top rated options currently available on the consumer market.
The body is made of a special aluminum that is strong, relatively light, and resistant to rust and corrosion, even from saltwater. They are designed specifically with fishermen in mind and come with a handle that allows for a strong grip and is not likely to slip or skid. Designed to be bright so it's easy to pick out in an instant, the belt loop and lanyard holder makes it easy to have right on hand without losing it. The jaws of the pliers themselves are made out of high quality stainless steel. An anodize coating on the surface helps keep the pliers used well while the cutter section of these pliers are made from tungsten carbide.
What's this mean? Pliers that are easy to grip, cutters that cut line easily, and a total package that holds up very well. Machine made for precision quality, there's a lot to really love about what these outstanding fishing pliers have to offer. There's a reason they're on this list, and they've earned a spot in the discussion on the best fishing pliers and grips out there.

MadBite Fishing Pliers
Looking at good MadBite fishing pliers can be a little bit difficult because if you visit the Amazon page the picture (as well as the Buy Now button at the end of this review section) links to, there will be the standard pliers as well as more expensive "Super Hard" options that are the obvious heavy duty upgrade to what is already a really good set of fishing pliers. Of course this means for all practical purposes we have two different pliers that are being reviewed in this one section.
While the heavy duty ones are a bit tougher to use (not by much but there is enough to notice) they are also slightly better, in my opinion. This is with the caveat that I have big strong hands, so you may try them and find them a bit stiff or rough to use. The good news is that the "regular" MadBite fishing pliers are more than good enough to make our list.
These fishing pliers are durable with a good length at 7.5 inches. They offer a very solid grip and that means you get better leverage. Whether you are cutting, crimping, or holding firm, these pliers have the ability to help you get the job done fast and right. Made from stainless steel components that are resistant to corrosion even from saltwater, these are a heavy duty set of pliers that are designed with serious anglers in mind.
They look good (actually if you like bright colors they look very good), are spring loaded to make it a bit easier to use than some of the other models on this list, and the grips are made of non-slip silicone so even when there's water everywhere, or really slimy fish, you will be able to hold on to the pliers and not have to worry about grip.
There's a reason they're on this list, and once you add in the extremely impressive 5 year warranty, you can see why it was impossible to complete this list without including them. You can buy these pliers in confidence knowing you are going to be fully covered if anything at all goes wrong.

Fiblink Saltwater Aluminum Fishing Pliers
Fiblink aluminum fishing pliers are not only approved for saltwater use, but they definitely stick out with a unique design that makes it easy to notice them from a distance and stick out among the competition. The handles have distinctive grips that are designed to make it easier to grip the pliers firmly even in the most of challenging conditions. The holes throughout each handle make it easy to run line through so they can easily hang up in the tool shed at home or use a special carabiner or key chain/lanyard sort of setup to carry around and keep them easily at hand.
The aluminum frame is made from a CNC-machine process before the pieces are fully anodized to resist corrosion even with frequent exposure to saltwater. This design also means that the weight is reduced due to less material being needed on hand while the replaceable tungsten carbide cutters work like a gem to provide anglers with clean line and wire cuts they need. Add in the stainless steel jaws that are titanium coated and you have a very strong, very durable set of fishing pliers that can take care of all your on the water needs.
The versatility of the unique Fiblink saltwater fishing pliers is part of what makes them so popular, and whether you need a tool to aid with easy fish removal from a hook, cut lines, crimp and press lead weights, hold the fish in place, or solidly grip a bit of fishing line, these can really do it all.

Booms Fishing Stainless Steel H1 Fishing Pliers
These are the least expensive option on the list by far, but that shouldn't necessarily scare you off. Aside from normally be priced under $10 to give you more money to spend on a new fishing rod, lures, or saving up for that boat you've had an eye on, these pliers are still a very strong and well made tool that can be a great addition to your tackle box, but if you're going to go with Booms, make sure you understand what these pliers need to stay functioning.
The design is classic and this easily handles all the basic functions an  angler wants out of his or her pliers. These can hold objects firmly in place, they can crimp shot split lead, and it even has a ring opener which means repairing your damaged lures is a possibility if you have the other proper equipment on hand. As a crankbait man myself, I really appreciate this level of versatility.
These are light pliers so don't try to run them through the same cuts and work you would put heavy duty pliers through. Since they are stainless steel and not anodized, you also need to keep them away from salt water.
Important to note: these are basically well designed stainless steel pliers for anglers and they don't have any of the waterproofing or bells and whistles that some of the other models have. So while these are less expensive to purchase up front, you do need to take care of them a lot more than some of the other models on this list.
The good news is that with even just some basic steps that you should be practicing anyway if you take care of your gear, you will be able to keep these inexpensive stainless steel freshwater fishing pliers in top notch shape.
Remember:
Clean your pliers after use
Dry your pliers thoroughly
Fill the spring center with lubricating oil
Follow these steps and chances are you'll be very happy with how these basic fishing pliers work for you and your angling needs.

Wolftop Saltwater Aluminum Fishing Pliers
The saltwater aluminum fishing pliers by Wolftop are a very solid addition to the fishing world and have earned their spot on this list. Available in two popular color combinations: black & green or silver & blue, these pliers are made from anodized aluminum that allows them to be used equally effectively in freshwater or saltwater, without too much worry about rust and corrosion. The jaws of these pliers are made from coated carbon stainless steel and have a combination of outstanding strength in addition to an impressive and reliable durability that makes them ideal for removing hooks.
The carbide cutters give your pliers outstanding cutting power that will slice through any type of fishing line imaginable and helps guarantee a clean easy cut. A coiled steel wire lanyard comes with this tool along with a holding sheath that is easily attached to the belt which means the tool is always going to be right there when you need it.
These weigh a mere 3.3 ounces, meaning weight is never an issue, and the grip for when you're holding items in place is outstanding. These pliers also come with a risk free 12 month warranty, meaning this company really does believe in backing up its work.
The one clear downside: these are only 7.2 inches long and because of the design can feel a little bit smaller. If you have really large hands like I do, and not the most dexterous of fingers, then these may prove to be too small to use comfortably, which is the most common knock on them.

Cloud Pattern Aluminum Fishing Pliers
Cloud Pattern aluminum fishing pliers are a solid way to round out our list of the best fishing pliers for active anglers. These blue pliers feature aluminum alloy handles, jaws made from stainless steel, and the ever popular tungsten carbide cutters that are currently the most popular common option. These are smaller pliers at 6.9 inches, but the design makes solid use of that space to make them usable and reliable for most outdoor enthusiasts. At a weight of 6.1 ounces they remain lightweight while still fully capable of getting the job done.
These pliers are anodized meaning that they resist corrosion even against saltwater. They are rust proof, they are strong, they are durable, and the line cutters
Aside from the pliers these also come with a carrying case as well as a plastic coiled lanyard and connector clip. This is a nice little bonus for pliers that have clearly been designed with anglers in mind. The unique grip means they won't be slipping from your hand, the handle design allows them to easily be hung up on a peg board in your garage or tool shed, and they are easy to carry around so you don't have to scramble to find a pair when you need them most.
These are an outstanding multi-tool that are excellent for just a wide array of various angler needs in addition to working as a great pair of pliers for hobbyists, craft enthusiasts, and any repair requiring a good solid grip that these provide.

In Conclusion
When your favorite fishing season is right around the corner or even showing up on top of you, it's easy to think about that brand new fishing rod or to clean and maintain your reels so they're in top shape. While having a good pair of fishing pliers tends to be pretty low on the list of things to think about or make sure of, but when the time comes to remove the hooks and let the small ones go (or the big ones depending on the rules of your local fishing area), you'll quickly be able to tell the difference between an average set of pliers, a poor set of pliers, and a really top notch set of fishing pliers.
Don't cheap out. You don't want a great day of fishing ruined because you have one faulty piece of equipment and that ended with ruining a lure, hurting a fish, or with sharp treble hooks in your hand because you couldn't keep hold of them with your terrible pliers.
Short Video on Picking the Right Fishing Pliers