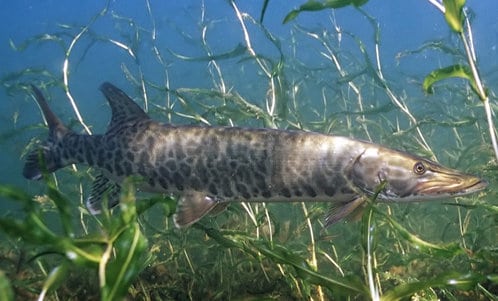 True made up stat: Aside from muskie, dull hooks are the #1 cause of psychotic breaks in fishermen while out on the water.
Think about it – you guzzle the morning coffee in the early a.m.'s to get an early start on the day, settle into reality as that truly early morning feeding frenzy you were dreaming of last night doesn't show, then finally after hours of patience, of carefully casting, baiting, planning, and stalking, you feel that hit.
So you set the hook.
Or so you think.
Maybe you don't make the set and you curse your bad luck right away. Little do you know, you're the lucky angler that day.
The other one starts reeling it in, but the hook isn't sharp, and the fish throws it. If the fish is a muskie, it waits until it's right by the boat to mock you because it can. Muskie anglers understand this recurring frustrating pain.
All you need is one non-angler in the boat to say "What a helpful fish bringing your hook back," and in an appropriate response to the passion of the moment, you hit them with an oar. The next six months you miss fishing because you're arguing over justified crime of passion vs. pre-meditation.
All of that mess could have been avoided if you had just spent a few bucks on a quality fishing hook sharpener to prepare before your next outing on the water.
Look you're not going to catch them all – but why give the fish yet another way to disappoint your next outing? With any of the following five top rated fishing hook sharpeners you'll be ready for your next outing. After all, limits were meant to be filled.
You might even be ready for the most mischievous of muskie.
Read on to learn more about the best hook sharpeners out there for anglers!
SE Dual Grit Diamond Fishing Hook & Knife Sharpening Stone
You've gotta' like a really good 2-in-1 tool, especially when that tool helps you to more efficiently catch and clean fish. Yet the dual grit diamond fishing hook & knife sharpening stone does just that. Available in 200 grit and 400 grit ratings, this handy sharpener includes a plastic handle for extra grip and even includes a lanyard loop so this can be carried along or tied around the loop of your blue jeans.
Labeled as the DF401FS, this is a really outstanding fishing hook sharpener from SE that truly gets the job done. This handy little tool means you can sharpen the hooks on the spot.
The sharpening stone is even versatile enough to put a little bit of an edge on your trusty knife, as well. All of this is in a very compact frame at well under 6 inches in length.
This hook sharpener is compact, lightweight, and gets the job done. That's the type of trifecta every angler is looking for.
When looking at all the options out there, it was clear that SE's hook sharpener was one of the two best out there and they make the top of our list!

EZE-LAP Shirt Pocket Diamond Sharpener
The high quality hook sharpener that gave the SE model its biggest run for first place was definitely the EZE-LAP shirt pocket sharpener. Made in the United States and featuring an incredibly hard surface of industrial-use diamonds, this thin and easy to carry portable fishing hook sharpener is surprisingly durable. Even after a long period of use.
This simple yet exceptional design means you have both an oval and a flat surface to meet all your sharpening needs. There's also a fish hook groove so whatever hooks you're using, you can keep them razor sharp!
Over 40 years of experience means a long track record of quality. These are outstanding fishing hook sharpeners at a very reasonable price, and with a design that makes it very easy to carry around. This company is famous for it's wide array of sharpening tools. Featuring a bonding/blending design that is actually patented and the use of top quality industrial diamonds and it's easy to see why they make the list.
The most lightweight of the choices on this list, they have earned their place as a great hook sharpener. Any angler would be happy to add this to the tackle box.

SAMSFX Fishing Anglers Vest Pack Tool Gear Assortment Combo Tool Kit
The SAMSFX vest pack sharpening tool for anglers is another great option when you're looking for the perfect tool to sharpen your hooks and get you ready for a day out on the water. In this case there are two sharpeners as opposed to one, which is perfect for couples who love to spend time out on the water together but maintain their own gear individually.
The surfaces of these sharpeners are a combination of stainless steel and diamond grit. Not only are they great for sharpening hooks but like the best options on this list, they can help put a little bit more of an edge to your fillet knife in a pinch.
The handles are coated in rubber to help give you a firm grip whenever you are sharpening the hooks or your knife. One the fine side is one groove that is set to 800 grit while the medium side has two grooves that is set at 600 grit each.
In other words, they are versatile and setup to help you tackle any particular issue with your hooks. These are great for regular anglers as well as for fly fishing anglers who need to make sure those hooks are extra sharp. The lanyards are perfect for fly fishing enthusiasts and a pair of these make for a great gift for the angler in your family.

Lansky Multi-groove Fish Hook Sharpener
The Lansky fish hook sharpener is a classic choice, one that many anglers are familiar with. Coming with a yellow handle with a lanyard hole for easy carrying and transportation, this multi-groove hook sharpener has long been familiar to many anglers. Crafted from high quality materials, these sharpening stones get the job done and allow you to sharpen hooks quickly whether at home or out at your favorite fishing spot.
These sharpeners are easy to transport or fit into a tackle box, measuring a mere 4.75 inches in length. The multi-groove setup makes for a versatile sharpener and these grooves are developed to handle virtually any type of hook.
These can be attached to your fishing vest, your key ring (which is included), or a lanyard setup that can be tied right into a blue jean loop.
The one downside of this sharpener is that it will wear down over time. While it tends to work extremely well while it's relatively new, over time it will wear down a bit and then you'll need to look at a new one or another option.
As an interesting side note – this is a favorite for many homemade Etsty jewelers who make earrings since these make great ear wires. Whether for crafts or anglers, there's a reason this is one of the best fishing hook sharpeners out there.

Dr. Slick Hook File
A relatively new arrival on the scene, the Dr. Slick hook file might not have the reputation of the other top rated fishing hook sharpeners on this list, but we wouldn't be surprised if this one climbed the ranks in the near term future.
Highly rated (though with a limited number of early ratings), the two sided file is set to be a portable solution to anyone who wants sharper hooks right now. The sharpening grooves are medium grit in nature and can be bought at 300 grit as well as 600 grit.
In addition to this the stainless steel model also features a diamond surface. That gives an outstanding combination of high grade materials to make it work.
At only four inches long, this is a very portable fishing hook sharpener that is easy to carry around in a wide variety of ways.
While it isn't quite up to the top of the list yet, the potential it shows makes it deserve the #5 spot on this list.

In Conclusion
Keeping your hooks sharp and in good working order doesn't have to take a lot of time. When you have the right tools even a short 15 to 30 minute slice of time to sharpen and maintain the hooks will be enough to keep your fishing hooks in good working order. Whether you're enjoying some serious walleye fishing after the thaw, hitting the local bass pond, or heading north for some serious pike and muskie fishing, keeping your hooks sharp is a crucial part of your potential success out on the water.
If you're set to go with one of these sharpeners then chances are that hook will hold the next time that trophy size fish hits your lure!
How to Sharpen Fishing Hooks Video