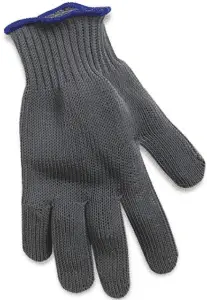 There's something really satisfying about seeing that stringer of fish after a successful outing. Even more than looking back at the pictures in the future, it's hard to argue with the promise that the smell of freshly fried fish brings to the table! While it's easy to imagine jumping right from netting another beautiful walleye (or pike or trout or bass) to rolling it in breading and frying it in the good old cast iron pan, there is that middle step that has to be done.
If you catch the fish, generally speaking you've gotta clean them. Unless you're on vacation with an "executive package." Then go ahead and drink beer while someone else takes care of the cleaning.
Otherwise the skillful use of a good fillet knife is going to rest on you, and even the best of us can have an accident or an errant cut that sends that blade skidding. And if you believe in using high quality sharp fillet knives like we do…you definitely don't want that thing hitting your hand or arm.
The best fillet gloves for anglers are dependable, strong, and have a good grip. Obviously most of all they can deflect even the strongest knife blade. Your hand may still hurt like bloody hell – but it won't be spouting blood.
This isn't a full top ten list because frankly, we have yet to find ten pairs of fillet gloves that meet our quality standards. However, read on to find several of our favorite options for the best fillet gloves currently out on the market.
Top Fishing Fillet Gloves
Various fillet gloves for anglers are going to have very different designs and ideas of the best method for protecting your hands. We do our best to figure out the best options available for you, regardless of material or design. Read on to find our short list of the top rated fillet gloves for anglers currently available out there!
Rapala Fillet Glove Review
No one should be surprised that the top spot in this article goes to a tried and true name like Rapala. Although they may get the majority of attention from their outstanding fishing lures, they make a tried and true fillet glove that does a great job of combining comfort, grip, and protection.
The Rapala fillet gloves are simple in design and color, using a blend of stainless steel links and natural & synthetic fiber combinations to give anglers the best in comfort, grip, and protection in case the blade slips while cutting.
These fillet gloves from Rapala look good, feel solid on the hands, and get the job done. They protect your fingers, allow you to grip fish better, and are an outstanding option that continues to receive rave reviews from anglers of all ages – and for good reason!
The only potential drawback that gets mentioned? These can be a touch on the small side, which is an issue for people with large hands, like me. This is a solid fillet glove (but it's not a chain mail knight's gauntlet so don't be careless) that will help with the process of cleaning fish and yet another great example of why Rapala is a trusted name among fishermen.


Lindy Fish Handling Glove Review
These might not be called fillet gloves by most anglers, but a fish handling glove is a fish handling glove. No matter what the name an angler just wants to know the gloves will work! The Lindy Fish Handling Gloves thrive when it comes to handling even the slickest of fish. Advertised as a bullet proof vest made for your hands, these gloves shine when filleting fish.
Lindy boasts being far more protective of your hands than even other fillet gloves. When it comes to puncture protection it's hard to find a better glove. You still enjoy the same quality of protection from slashing injuries, as well.
Priced higher than most of the other gloves on this list, but the quality is second to none. Even when pegged at that higher price point many experienced anglers still believe these gloves are the best fishing gloves for the money. These gloves might be labeled as more expensive but they are far cheaper than a visit to the hospital.
These gloves are mad available for both righties and lefties. The orange fabric makes them very easy to see and pick out. If you're my size then you'll especially appreciate the double extra large Lindy fish handling gloves.
This strong fabric is further strengthened with tiny armor plates sewn in. This allows the piercing protection that few other fishing gloves have. If you've ever slammed a bare hand into the back fin of a walleye, you know why that's a good thing.
Finally the design shines as well. Velcro wrist straps make adjusting the fit easily. These gloves are great in both freshwater and saltwater. They've even proved themselves as being great to handle fish during the catching phase.



Dowellife Cut Resistant Gloves Review
The thick cut resistant gloves from Dowellife are some of the highest rated gloves online to protect from cuts and although they are common used as heavy duty cutting gloves in the kitchen, they are just as good out at the filleting station. The key is having solid gloves that allow you to grip the fish firmly and protect your fingers at the same time.
These gloves are highly regarded and are even rated as a level 5 cut resistance knife for kitchen use which means it is at least 10 times stronger than your regular glove. One important note: although many of these gloves come in pairs and show the use of both, often times I find it easier to use one glove: on the hand that is holding the fish while I keep my hand bare when handling the fillet knife. You'll know which setup works best for you.
This particular set of protective cutting gloves get high marks for flexibility, good fit, and being easier to both sanitize and keep clean since they are actually machine washable – a major plus. The hang ring also allows them to be put up for drying easily.
These are really top notch kitchen fillet knife cutting gloves that get the job done and help make sure your hands stay fully protected as you're doing so. These are not only great for cutting fish but also oysters, or any other slippery meat in the kitchen, but are versatile in nature indoors and out.
These are much lighter and more comfortable than chainmail gloves, and weigh a mere two ounces. This makes for a truly superior pair of fillet gloves.


South Bend Fillet Glove Review
The South Bend Fillet glove is another outstanding 5-star option that anglers are raving about. Going with the classic gray design, these gloves are created from a cut-resistant interwoven mesh of wire strands that creates a solid protection from cuts from slipping blades.
Like most of the gloves on this list, these are the next step from "chainmail gloves" that were often used to prevent grievous injuries, especially in kitchens where insanely sharp fillet knives are being used during a fast preparation.
These gloves protect you from cuts, help steady your grip on slippery fish, and the size is a bit more flexible than some of the models out there. While there's still a chance to get a minor stick from the spines of some fish because of the linked design, the damage won't be nearly as bad and the protection from a fillet knife where the cut is a clash is comprehensive.
Heavy duty, able to be stretched to fit either hand (big point for ambidextrous folks like me who like to shift hands mid-job sometimes depending on the angle), these gloves do a great job of taking care of everything.
This is a rock solid option, one that gets the job done, and can last a very long time if it is properly taken care of. These mesh gloves for fishing are some of the best out there and there's a reason they are so highly regarded.


PHOEBE Cut Resistant Gloves Review
The cut resistant gloves manufactured by PHOEBE get extra points for having multiple sizes, including an extra large size for those of us with really large hands. This can be difficult to find fillet gloves that work with really large hands. These durable gloves are heavily cut resistant, durable, and made from a strong HDPE material that is over 400% stronger than leather.
These gloves give a snug fit, a comfortable grip, and remain lightweight and breathable to give comfort while still getting the job done. While the PHOEBE fillet gloves are advertised for kitchen use, these are designed to be multi-purpose use both indoors and outdoors. There are even many individuals who use these gloves for cutting tools in completely other areas, as well.
The fibers of the glove are food safe & the glove are machine washable, which is perfect for keeping them in good shape. Beyond this, there is even a strong money-back guarantee so if you aren't satisfied for any reason then you will get all of your money back. 100% guarantee is about as solid as it gets.
These cut resistant gloves are fantastic and offer a firm grip when you need it most, so fillet away in peace!


Stark Safe Cut Resistant Gloves Review
Made from some of the highest quality materials out there, the Stark Safe entry to cut-resistant fishing gloves stand up to the competition. This isn't just another one on the list, but this is a very high quality kevlar fillet glove that takes the best of several materials and protect your hand – coming in with a full Level 5 rating when it comes to resisting cut damage.
These great fishing gloves will protect your fingers, your hands, and your upper wrists. They are great for prepping food, filleting all types of fish, and making sure that whatever the situation you will be able to cut with confidence knowing your hands are protected.
The comfortable fit also includes a really top notch grip that also helps to prevent knife slippage even during the slickest and most difficult of cuts.
In addition to featuring a full coverage warranty, these gloves also have another interesting feature. These are one of the only pairs of fillet gloves that are also designed to give full space for breathing without sacrificing protection. That means very little hand sweat, or at least a lot less.
The hands stay dry and comfortable, and that makes it much easier to make the perfect cut.


Mad Bite Fillet Glove Review
This entry might look a bit familiar to you and if so, thanks for sticking around and reading more than one blog post! The Mad Bite Fillet Glove made our list of some of the top rated fishing gloves out there, so it should come as no surprise that this makes the list for one of the top rated fish glove options out there.
Whether you're attempting a tricky cut around a northern pike's Y-bone, handling a slick fish in the boat as it jumps around trying to escape, or cutting out fillets on a slickened surface, these gloves will serve you well and help you to keep the fish steady while making your cuts.
Offering grip, protection, and a solid fit thanks to multiple sizes, there is a whole lot to like about what these fillet gloves have to offer. Whether cutting carefully around ribs (you never want to leave them in the fillet!), making those initial cuts, or whatever else, these gloves will help to protect your hands the entire way through.
The gloves use a combination of thin steel wires, synthetic materials, and Kevlar (yes, the same Kevlar used in bullet proof vests) that are woven together to give an incredible amount of protection against cuts or slashes of all types.


What to Look for in a Pair of Fillet Gloves
There are many different options when it comes to finding a good pair of fillet gloves, and the designs can vary quite a bit. Some are almost entirely focused on a slight improvement to the chainmail glove design (more modern materials but same design basically) while others tie in some patches of "armor" to help prevent puncture damage, as well.
Despite the differences and variety available there are some factors that good gloves have in common.
Look for a History of Good Reviews
If you wonder why the length of review history or the background of the company matters, skip down a couple sections to where we talk about how drop shipping from Amazon has changed a lot of things.
Basically you must act weary when you see a new arrival with very few reviews. If the picture looks remarkably similar to others, then be even more cautious.
A long history with way over 10 or 20 positive reviews acts as a great sign.
Obviously the quality of the reviews matters, as well. That being said I would trust a 4.2 from 100 reviews far more than a 4.7 from 8 reviews.
Research the Brand and/or Company
One of the easiest ways to know if you are picking one of the elite fillet glove choices is to look for familiar name brands or company names that you already know. No matter what industry you're in, some names are going to be easy to recognize.
This is part of the reason that Berkley is such a big name for regular fishing gloves and why Rapala and Stark Safe are huge names when it comes to fillet gloves. A reliable company that has decades of experience will almost certainly create a great pair of fillet gloves, or in some cases a single glove as outside of the kitchen a single glove is really all you need since the other one will wield the knife.
Take a look at the company history or the brand history. The further back it goes, and the more reviews there are, generally the better off you will be.
Fishing Fillet Gloves Versus Kitchen Fillet Gloves
It doesn't take long searching through various fillet glove options to figure out there are kitchen gloves and outdoorsman gloves. In other words, you can start out searching for a very specific type of fishing glove to help you cut your catch only to see a lot of kitchen pictures. This catches a lot of people by surprise who aren't expecting it.
There really isn't a big difference here. This makes sense because if you're not cleaning and cutting fish at a skinning and gutting station then chances are you're going to be using them in the kitchen. There's a lot of overlap here.
One important point to note is that while kitchen anti-cut gloves tend to be a little bit more general and anti-cut gloves for anglers tend to be more narrowly focused, that doesn't mean there isn't a lot of positive overlap because there really is.
However understanding the two "types" that are here can help you to narrow down the list and figure out which gloves really are the most useful for your specific needs.
Do You Have any Specialty Needs?
Do your hands have poor circulation and need to be kept dry to keep from shaking? Are you sensitive to any type of hand injury and need puncture protection in addition to slashing protection? Are you left-handed?
There are many situations that can be considered "specialty needs." If you want to pick the best possible gloves you'll need to keep these in mind. Better to take more time to make a smart choice than to rush to buy and only end up needing to get a refund before purchasing a different option later on down the road.
A Note on Drop Shipping Has Changed Fillet Gloves
One of the first things we want to say on this topic is that it isn't necessarily a bad thing. If more access to the market means more great options when it comes to getting a great pair of fillet gloves to protect your hands then great.
However, this also means a deluge of fillet gloves for fishermen on Amazon will include multiple different "companies" or "brands" that have the same exact picture, the same looking gloves, and the same design.
This is because you may have multiple sellers who are using the same factory in China to create a "brand" through Amazon's drop shipping plan. So in essence, there are many options that are basically the same gloves with different names, or virtually the same, anyway.
We do our best to thin these out and focus on fillet gloves that are tried and true, especially because of all the fake review practices out there to get 10 great paid reviews to get a product off the ground. We want to see the protective gloves that have been around a while and have some legs to them!
While many of the designs on here are going to look similar, that's due to the most popular materials and current designs creating many gloves that look very similar aesthetically but that doesn't mean there aren't major differences from one brand to another.
We've done the legwork to disqualify as many cheaply made drop shipping copies as possible, so you can go over these trustworthy fillet glove reviews with confidence!
Fishing Gloves Vs. Fillet Gloves
One of the biggest trip ups that veteran fishermen will run into is realizing that fishing gloves and fillet gloves are actually not the same thing. There can be overlap, which confuses things somewhat. Fillet gloves are fishing gloves but not all fishing gloves will be fillet gloves.
Fishing gloves refer to any pair of gloves that can be of aid to an angler. These could be protective gloves for when you're handling fish with sharp teeth or fins that can cut an unprotected hand, high functioning gloves to keep your fingers a bit warmer or drier, or large mittens with a flip off top that allows fingers out for ice fishing conditions.
Fillet gloves are specially designed to prevent slashing injuries. Fillet knives are designed to be extra thin and extra sharp – and the smallest slip can gash a hand wide open. Not the ideal situation. Especially if you're in a fishing lodge in the middle of nowhere.
Copying the old chainmail way of layering lines of links, actual fillet gloves are anti-cut and use modern materials like Kevlar and steel wire to help give that extra bit of protection. If you are reading about steel wire fishing gloves or Kevlar fishing gloves, then chances are those are made with a focus on filleting in mind.
Understanding this difference will help you make sure you get the right type of gloves and not end up with good fishing gloves that might keep the fingers warm but aren't going to stop an injury from a fillet knife slip.
Fillet Gloves FAQ
Q: Are fillet gloves and fishing gloves the same?
A: No. While some people might just call these fishing gloves or see fillet gloves as just one type of fishing glove, there are some major differences between the two. To learn more on the difference between fillet gloves and fishing gloves scroll up to the previous section.
Q: How do these fillet gloves compare to a protective chainmail glove?
A: The chainmail glove was actually the original style to protect hands from potential errant cuts. In fact, some old school chefs will still use these in a kitchen. The far majority of modern fillet gloves follow the same basic design because chainmail was a great way to protect from slashing swords, and the same concept works with gloves and fillet knives.
However, the traditional chainmail gloves are heavier, bulkier, and harder to work with than the new designs that take advantage of steel wire, synthetic fibers, and Kevlar in order to create a superior fillet glove for anglers or cooks.
Q: Do fillet gloves stop puncture wounds?
A: Most do not. These gloves are designed to stop slashing injuries because that is how a fillet knife cuts. No one stabs with a fillet knife, so most gloves don't care about potential puncture injuries (like from a walleye's dorsal fin). Now that being said, most of these gloves give some level of protection and then you have some special fillet gloves for fishermen like the Lindy Fish Handling Glove that do take that into account and are designed to stop both.
Q: What type of materials are fillet gloves made out of?
A: While the old fashioned chainmail fillet gloves are going to use actual tiny steel chains linked together most modern anti-cut gloves use Kevlar, steel wire, and synthetic fibers that are designed to interweave with those other two materials and are designed to be harder than leather in and of itself.
Q: Do you need one fillet glove or two?
A: People have varying opinions on this. I find that much of the time fillet gloves for cooking come in pairs while many of the best ones for anglers have one glove to hold the fish and none for the knife hand, which is personally how I prefer to work.
In Conclusion
Making sure you get the right piece of equipment is important, and a task that can be a bit bothersome at times but you definitely want to make sure you're set up right. Especially when it comes to something like fillet gloves that protect your hands from the unusually sharp knives that need to work in slippery conditions.
Nothing ruins a day like a gashing hand wound causing you to bleed all over that day's catch!
How To Pick Right Fillet Knife Video
Other Fishing Articles of Interest