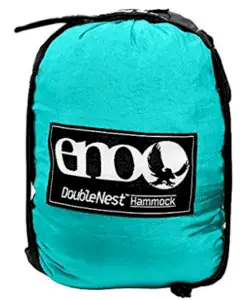 Eagles Nest Outfitters (ENO) makes some of the highest quality camping hammocks that are currently out there in the market and there is a reason their name comes up again and again when talking about the best hammocks for camping that are available. In fact, it's not out of line to argue that ENO hammocks are the actual top of the line that everyone else in the industry is compared to!
As hammocking continues to take off and find a strong supporting culture of avid outdoor enthusiasts, there's no doubt that there are going to be more companies who want to get into this market and bring their own products into the market. Everyone wants to be the next ENO, but that is easier said than done as many are finding out.
If those new companies are going to compete with the best in the field right now, they will definitely need to take a look at the top rated ENO hammocks to get a sense of just how high a mountain that might be to climb! Eagle Nest Outfitters hammocks are the best in the field for a reason and they're not looking to give up that crown anytime soon. Whether a veteran hammock camper or a newbie, you won't be disappointed going with an ENO.
Who Are Eagles' Outfitters?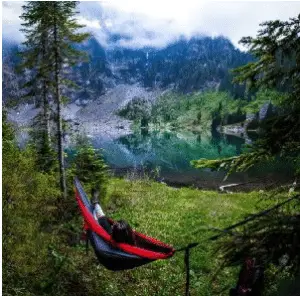 If you want to skip right down to the more in depth reviews, just scroll down the page a little bit, but when you're trying to figure out why one company or brand tends to stick out over others, you can almost always trace it back to an interesting company story or committed culture of excellence. Eagles Nest Outfitters is no different here – the only difference might be how consistently they have achieved their stated goal of providing the absolute best quality products available since their founding in 1999.
This company started as a passion product, and the original office was a van. The less than impressive minivan became business and home for the early entrepreneurs and they planned to go up and down the East Coast hitting festivals, community events, and other similar events along the way selling one hammock at a time. This passion, and the sheer quality of their hammocks, would pay off more quickly than they could imagine and it wasn't long until they found a good home in the city of Asheville, North Carolina, and expanded into the major power in the field they're known for today.
Their full bio is pretty amazing and you can find it in their own words here at the ENO Hammocks About Us Page.
ENO Eagles Nest Outfitters – DoubleNest Hammock
Offered in dozens of different color combinations that allow them to meet almost any aesthetic, there's no denying that ENO stays ahead of the general market curve when it comes to offering an incredible variety of visual choices, but the classic DoubleNest hammock goes above and beyond by using top notch design and materials to guarantee that any outdoor enthusiast who makes a purchase is happy with his or her hammock.
This top rated ENO hammock safely supports up to 400 lbs of weight and is made from exceptional high tenacity nylon taffeta rated at a full 70D, breathes well, and is held together with solid triple interlocking stitching to offer the most solid build in the business. Extremely lightweight and portable, these can be reduced to the size of a grapefruit in an ultralight backpacker's pack for when space is at a premium, and these hammocks are designed to put up with constant long term use month after month, year after year.
This hammock includes very high quality aluminum carabiners that use the wiregate design, however it is worth noting that you will need to purchase ENO hammock straps separately. Built as a comfortable hammock for two or a very spacious one, there's a lot to like about what this standard bearer for ENO has to offer. After thousands of ratings, this is consistently one of the highest rated camping hammocks you'll find anywhere online!

ENO Eagles Nest Outfitters – SingleNest Hammock
The SingleNest hammock, aside from being wonderfully named as a style, is the standard by which ENO puts out all its other products and that shows just how unbelievably high the standard they set for themselves is. Since quality that goes above and beyond is the hallmark of this relatively young company that is the undisputed champion of camping hammocks, this should come as no surprise. The SingleNest has a lot to love about it, starting with the fact that there are currently OVER 25 different color choices.
Yes, you read that right. Over 25. When having one to three is a normal spread, having that level of variety is remarkable and that many options means if you can't find a color combination you like then frankly you are way too damn picky. The SingleNest hammock is perfect for the solo hammock camper, or simply a camper who loves going with groups but wants his or her own space to relax and sleep in. These hammocks are ultra light, enough to be a huge favorite among serious hiking and backpacking enthusiasts while being made from strong enough material to safely support up to a full 400 lbs of weight.
The packed dimensions are 4 feet in length by 5 feet in width while it comes out to 9'4″ in length and 4'7″ when completely unfolded. At a mere 16 ounces (1 pound) you can't argue about the lightweight versus incredible strength. This is a hammock that is designed to hold up as you use it again and again and again.
While this hammock does generally include high quality carabiners and strong nautical line, hammock straps are actually sold separately (though you can check out our article on the best hammock straps) so you will want to take a look at that, especially if you want to make sure not to harm the trees and to emphasis the no trace left behind aspect of your camping.
These are outstanding hammocks, and if you want to know you are getting the absolute best in quality available then there's no doubt this is the buy for you. Thousands of perfect online reviews can't be wrong!

ENO Eagles Nest Outfitters – CamoNest Hammock
Available in three different styles of camouflage (forest, retro, or urban), the CamoNest Hammock is a very popular choice that has gained a lot of attention recently from people who really dig the look of camo, or its unusual variants, and want that combined with the high level of materials and design that only come from those rare gems of companies, like Eagles Nest Outfitters.
This hammock is available in regular or extra large sizes and is high strength, still supporting up to 400 pounds like the other exceptional and highly respected hammock options that are manufactured by this company. Made from 70D high tenacity nylon to stay strong and held together with triple interlocking stitching, you're not going to be disappointed with this hammock.
This hammock can be rolled down to the size of a grapefruit, and weighs about the same. Yet you can set up almost anywhere and have your comfortable off the ground place to sleep while hanging comfortably, confident that the carabiners and whatever high quality hammock straps you buy will do the job and hold you up.

ENO Eagles Nest Outfitters – DoubleNest Flower Of Life Hammock
When you purchase a camping hammock of any kind from Eagles Nest Outfitters, one thing you can definitely count on is getting an extremely high quality product that is going to review well, hold up well, and deliver on its promises. The Flower of Life hammock is no different, as this compact and 1.4 pound hammock keeps the strength that ENO hammocks are known for as it is able to support up to a full 400 lbs of weight and the famed triple interlocking stitching that makes ripping and tearing at the seams incredibly unlikely.
As with most ENO hammocks, the suspension straps are sold separately so bookmark that article on the best hammock straps we have on this site to make sure you can hang around in relaxing peace without having to worry about damaging trees or staying suspended. This is a hammock designed to be big enough for two smaller people or extra spacious for one, and yet it still breaks down to the same grapefruit size that makes these hammocks such a popular choice among ultralight hikers tackling a long thru hike on trails like the PCT, AT, or CDT.
This hammock has an impressive versatility, is durable enough to be used frequently (which is crucial for any serious hammocker) and can even be just tossed up in the backyard so you can take a relaxing and well deserved rest. Bringing in the frequent perfect ratings you get used to seeing with an ENO hammock, this design is sure to find several fans.

ENO JungleNest Hammock Reviewed
While traditionally it has been more difficult to make a really well received camping hammock that has the bug netting built in as opposed to an add-on, ENO took their shot at making a hammock that would be perfect for those of us who often find ourselves at the mercy of massive hordes of gnats, flies, sweat bees, and mosquitoes. While you would just hope to never meet huge swarms of these that end up ignoring even the strongest bug spray, in some places that is just going to be a fact of outdoor life.
The JungleNest Hammock is ENO's attempt to remedy this situation with their version of an all-in-one combination of bug net and hammock to create the ideal bug free relaxation and sleep zone whether in your backyard or out by the lake. This is quick, convenient, and reliable protection from annoying bugs and biting insects while camping and you can add a full length side zipper to make getting in and out of the hammock easy without letting all the bugs in behind you.
Designed to support 400 pounds, the 210D nylon taffeta material is put together with heavy duty triple stitching to make sure those seams hold up to pressure, and that extra bit of strength shows as this hammock is nearly double the weight of the others in the ENO line: which still puts it at a mere 29 ounces or less than two pounds.
This hammock is designed with multiple internal hanging loops as well as organizer pockets for glasses, phones, lighters, or whatever other loose things you need to be able to carry. This is an incredibly well made hammock that uses top notch materials, heavy stitching, and the solid green color is a great aesthetic that will help you feel right at home in the woods while camping, hiking, backpacking, or just choosing to lounge around.
The stunning number of high ratings (which isn't surprising for an ENO but as stated earlier is for a hammock with bug netting) means this one is a winner, and there's a reason it shows up in our article on the best camping hammocks with mosquito netting.

ENO Double Deluxe Hammock
Featuring 10 color combination options that feature one main color with a highlight of another, the Double Deluxe hammocks from ENO are yet another really outstanding option when it comes to the always popular ENO hammocks (and rightfully so). These hammocks are for people who want more space, more space, and then a little bit more space. These are bigger than a double and have been described as being similar to three singles stitched together from a size perspective.
In fact to compare:
Double Deluxe is 8'4″ x 9'4″ 1.8 lbs
Double Nest is 6'8″ x 9'4″ 1.2 lbs
The design concept is basically the same. They same high quality, the same exceptional materials and build design, except even more space to lounge comfortably. As with the other designs this comes with some quality aluminum carabiners but without the additional hammock straps that are far superior to rope or hanging line, so keep that in mind when ordering and perhaps pair them up to make sure you can set up from the absolute get-go.

ENO Eagles Nest Outfitters – Ember 2 Under Quilt
There actually seems to be a little bit of confusion over this one. This is not an actual hammock in and of itself, but it is a finely cut and designed quilt that can be fit into the inside of virtually any ENO hammock. This is incredibly comfortable, very warm, and the polyester filled quilt takes up the sides and bottom of your hammock, surrounding you with warm quilting while also creating a solid barrier between your body and the cold autumn or winter air around you.
This padding has received a high number of reviews and the cut of the padding makes it more effective than many other types of pads that are used for hammocks. This one is constructed, sewn, and manufactured specifically to enhance your ability to retain body heat, keep warm, and this allows for winter hammock camping in many regions where it otherwise wouldn't be possible (Shane's note: as always, use common sense. A 10 degree sleeping bag and this padding when it is 20 degrees out is great. If you're in Fairbanks, AK, in winter and it's 50 degrees below zero, consider trying again at another time).
This quilting comes with an adjustable shock cord to make setup easy and fast and helps you remain warm even in extremely cool or cold conditions. These are also very easy to store and pack, making it easy to make sure you have this when you need it most. At only 25 ounces of weight, it is surprisingly lightweight considering how effective it is at keeping you warm. While technically an accessory for hammockers, this was important enough it deserved its own section especially for those of us who don't let snow stop us from enjoying the wild wild world.

ENO ProNest Hammock
A touch shorter than the SingleNest model of hammock by ENO, the ProNest hammock is the ultra lean and light model that is built with the obsessive thru hiker in mind. As some of their accompanying copy says: if you're the type who will risk not having a water filter if it weighs too much or you cut your toothbrush in half to save mere ounces on the pack weight, then the ProNest is the ENO hammock for you. Designed to be the lightest and most streamlined of all the Eagles Nest Outfitters hammocks out there, and every part of even the accessories are designed to shave off precious ounces.
This hammock is a mere 13 ounces and even comes with wiregate carabiners that are ultralight aluminum to keep even every half ounce off of your backpack. Still featuring the quality construction and comfort that you would expect from ENO, the ProNest is a minimalized version of the SingleNest delivering almost all the benefits while still shaving off some precious weight to make this even more appealing to hammock campers and hikers who will be going through heavily wooded territory.
This hammock rolls down to about the size of your fist, making it incredibly easy to transport and the versatility allows you to set up in any place with two safe and reliable anchor points from poles to trees. Whether you want a hammock that allows you to relax in the backyard but also holds up while hiking or the perfect ultralight hammock that cuts down weight but lets you sleep like a rock at night, the ProNest has you covered.
If you want ENO quality but need to go ultralightweight, this is your hammock!

Important Additional ENO Accessories
Although the Eagle Outfitters camping hammocks might be the star of the show, but that doesn't do a lot without the all-important accessories that come with them. Specific hammock straps, bug nets, rain tarps, and carabiners are all an important part of getting the full setup that you need. Some of these might be a bit optional while others you almost certainly need, but it goes to show that every single detail of hammock camping is taken into consideration by this company when they create their merchandise.
Just a short list of these ENO hammock accessories include:
ENO Atlas Hammock Straps
ENO Eagles Nest Outfitters – SlapStrap Pro Hammock Suspension System
Eagles Nest Outfitters – SlapStrap Hammock Suspension System
ENO Eagles Nest Outfitters Guardian Bug Net
ENO Eagles Nest Outfitters Guardian SL Bug Net
ENO Eagles Nest Outfitters – ProFly Rain Tarp
ENO Hammocks FAQ
Q: What is an ENO hammock?
A: ENO is short for Eagles Nest Outfitters and has become synonymous with absolutely top notch quality in the industry.
Q: Do I have to use ENO accessories with their hammocks?
A: No. Although ENO is known for creating the highest quality products for hammock campers, hammocks are pretty standard and you can interchange carabiners, hammock straps, and the like. There are some noticeable differences between hammock pads so look at those on a case by case basis.
Q: How do I know which hammock is right for me?
A: This can vary from person to person. If there are specialty needs (such as camping in cold weather) then address those first, otherwise look for a high quality option that you find comfortable and looks good based on your aesthetic tastes. With ENO there are plenty of options to find something exceptional.
Q: How do I properly clean my ENO hammock?
A: This is a fairly straight forward answer. The first step is obvious: remove the carabiners since they don't need to be washed and actually shouldn't be washed or dried. Put the camping hammock in the washer and then wash gently using just a small dose of a detergent that is rated as gentle. Skip the dryer completely and hang it out on the line to dry, ideally on a day that is both really sunny and really breezy to make sure you get the maximum drying benefit.
At that point you're all set to go!
Q: What repairs are covered under the warranty?
A: A wide variety of repairs are covered for up to two years, while official retailers of ENO hammocks may offer even more. Any factory defects or major issues are covered, but many of the "mis-used and thus damaged" issues will not be covered. You can see their full customer FAQ and warranty info here: https://www.eaglesnestoutfittersinc.com/warranty-returns/
Q: What sets Eagles Nest Outfitters apart? Why are they so well recognized?
A: Well technically you snuck in two questions here (busted!) but we'll try to answer them both because why not? ENO stands apart, and is so well recognized, because the company's dedication to using only the best materials, the best manufacturing processes, and the best design means they create premium camping hammocks that are seen as the absolute top of the line out there.
This is a company that promotes hammock camping, is passionate about hammocking, and because of that they are extremely active in the community and remain recognized as the answer to getting premium quality camping hammocks.
ENO hammocks vs competing brands
There is a reason that Eagles Nest Outfitters (ENO) is so highly regarded in the industry. They are an outstanding brand and stand toe to toe with the other major brands like Wise Owl Outfitters, among others. In fact, whenever a company wants to compare themselves to the leaders in the industry, the first company they look at is ENO. They're not the standard just because they've been around, they're the standard because these are the best designs using the best materials from actual hammock campers who understand how even the smallest detail can radically alter the overall quality.
Simply put: if you want to know how the competition stacks up, while there is the notable exception of Wise Owl Outfitters who are fighting tooth and nail to be in that same elite air, ENO is going to clearly trump everyone else. They know their business inside and out.
About ENO Company
Based out of Asheville, North Carolina, Eagle Nest Outfitters  (often referred to as ENO for short) is a company that focuses on creating the absolute best outdoor hammocks available on the market. Their focus on hammocking and all the required equipment to make it work helps explain why they have become such a huge name in the field.
In addition to these high standards of quality and manufacturing based out of the United States, ENO has a high quality blog that they keep actively adding information to on all aspects of hammock camping, travel, and what they like to call the hammocking or outdoor adventure lifestyle. Throw in a strong social media interaction with customers and frequent photography contests to encourage interaction and it's obvious that these guys are passionate about what they're doing and that passion seeps through to help propel them to the top of the hammock camping industry.
This all started with two brothers out of Florida who saw room for something better for an area of outdoor activity that they loved and while the beginnings might have been a dream, a lot of Ramen noodles, and a van perpetually low on gas, this eventually led to the ENO company outdoor hammock camping enthusiasts know and love today!
In Conclusion
There's a reason that ENO camping hammocks are among the highest quality and most popular options out there. They are at the top of the industry and put out amazing hammocks that campers of all levels of experience can appreciate. If you are looking for the best in quality above all else, then ENO hammocks have to be your preferred choice.
Good ENO Hammock Video Review