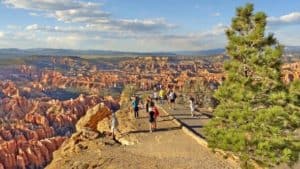 Emergency locator beacons are an important piece of equipment. While often called avalanche locators for winter warriors who are a bit worried about what the slopes or winter trails might bring, the truth is that there are actually many types of emergency receivers or beacons that serve a wide variety of purposes and they are better than ever.
Whether to set off in case you're in a life boat when the main ship goes down, a signal to send out when you're lost in the woods, or an emergency signal after an accident or avalanche, there are many options out there that not only give you GPS info but are designed to contact emergency contacts.
While some come with features like connection to social media or GPS, it's important to remember that the actual SOS or emergency features should only be used when there is an immediate threat of grave danger and/or death. False alerts aren't funny, they can be dangerous, and intentional misuse can absolutely lead to severe penalties.
Top Emergency Locator Beacons
Locator beacons come in several different forms. While many are attached to GPS systems, or are beacons first with some kind of rudimentary GPS, these do serve the same basic action although each in their own way and with their system.
Whether being used during an emergency at sea, after a natural disaster, or during another situation when you're in need of rescue, one of these options can provide the opportunity for rescue you need to help ensure survival in a highly stressful and potentially dangerous situation.
Lifeboats at sea
Post avalanche
With your travel vehicle
Additional protection to go with GPS
ACR PLB-375 ResQLink+ 406 Buoyant Personal Locator Reviewed
This is a serious and big time personal locator beacon. Programmed ahead of time with the U.S. country code and using satellite technology to notify authorities and help rescuers close in on your position. The ACR doesn't require a monthly or yearly subscription, it's a cost effective GPS system that floats, weighs only 1/3 of a pound, and brags about being one of the world's smallest yet effective PLBs.
The ACR PLB from ResQLink is easy to carry around and in fact is smaller than any current cell phone. These beacons are designed to be used in a wide variety of situations and are built with GPS so they can be an effective way to hone in on boaters, pilots, and explorers who may find themselves stranded or in trouble.
In addition to the ability to shoot a signal through bad weather and even from very isolated and out of the way locations, this beacon includes a strobe light and puts out an emergency call on 66 different channels while using GPS. The locator is accurate enough that even at its least accurate rescuers will be within 300 feet of you and your position.
Built in tests allow you to check the unit before heading out without risk of accidentally sending a false signal. The batter is guaranteed for six years although many expect it to work for up to a decade, making it an extremely solid choice when it comes to a solid emergency location beacon and our #1 choice.

DeLorme InReach Explorer Satellite Communicator Reviewed
The InReach Explorer is a satellite communicator from DeLorme that has a reputation for being one of the absolute best out there when it comes to viewing or creating planned routes, waypoints for drops, and navigation via local maps.
The DeLorme offers information on a wide array of details like a digital compass, and you can share your planned trip, progress, and location at random times so they can follow your progress and provide information if a rescue is eventually needed, helping to narrow the search area.
Even beyond this, the communicator has emergency settings allowing the user to sent text messages of 160 characters or less to pre-programmed cell phone numbers or e-mail addresses around the world, as well as posting updates to social media. Most importantly as an emergency beacon to help construct where you might be or where things went wrong, these messages come with GPS coordinates of where they are being sent from.
The best part is the fact that this device has a specific built in SOS that can be triggered, as well. This device can then receive a confirmation on the message being received and in many cases gives search and rescue the ability to communicate with you, increasing chances of a fast rescue in an emergency situation.

Ocean Signal rescueME PLB1 Beacon Locator Reviewed
The Ocean Signal rescueME PLB1 is pretty straight forward when it comes to use and purpose. Just as its name would indicate, this is an emergency beacon when you have an emergency in a marine setting. If you're in a life boat, push the emergency button, and via satellite an SOS is put out and then forwarded to all the local emergency services nearest to your location to get the emergency rescue started – and to aid them in being able to find you.
Your location gets sent continuously for up to a full 24 hours, acting as a homing beacon that rescuers can use to come to your rescue with pinpoint accuracy even from a great distance and even when the weather isn't the best. The emergency device even comes with a flotation case that allows it to stay above the water.
This requires no monthly or yearly subscriptions, making it extremely cost effective compared to many other options. As with other personal locator beacons, you want to make sure you are registered with whatever country you're in. Not only does this help them know who you are and what to look for, but in many countries that registration is actually required by law.
These are pre-registered in the United States and first communication goes to NOAA who then helps to coordinate rescue from there.
These can be fit onto belts, life jackets, and are easy to carry around because they take up so little space. Reliable, durable, and effective, this offers more than just peace of mind: it offers an actual lifeline to rescue during emergencies when you need it most.

MicroPLB Personal Locator Beacon Reviewed
This bright yellow package can be your best friend when it comes to emergency situations. Only about the size of a pack of cigarettes, this Class II beacon gives off a continuous signal for a minimum of 48 hours and has been tested in extreme temperatures from -22 F up to 131 F. The satellite signal here is consistent and will work in three extreme temperature to notify local search and rescue resources to get movement on your rescue when you need it most!
The GPS coordinates are accurate to within 30 feet, making this an outstanding tool for rescuers trying to pin down your exact location. The fact that this particular emergency beacon is designed to work anywhere on the planet during every moment is all the more important. Built to be waterproof and dust proof, this beacon is also extremely easy to activate. This can be done with one hand, with gloves on, even during extreme weather conditions.
When you need an emergency signal sent out, you want to make sure it is reliable and it gets out.
This doesn't require any service or subscription fees, and the owner registration is very easy to take care of online. Add in a 5-year warranty from the manufacturer for both parts and labor and it's easy to see why this particular PLB is so popular.

Emergency Locator Beacons FAQ
Q: Why do I need an emergency locator beacon?
A: There are so many good reasons to have one of these very important pieces of equipment with you whenever you're out and about! Whether you are going skiing in the mountains, hiking in the wild, boating or flying out somewhere, you never know when an emergency might happen. Having a beacon with you means you have the ultimate backup plan for when things go wrong.
Q: Are these for emergency pickup in the ocean or if you get lost in the woods?
A: Emergency locator beacons generally work the same way although you will want to check out each one for information on range, whether or not it is waterproof, and more. Don't let having one of these prevent you from making the common sense precautions before a major trip on land or sea.
Q: What if I set one off by accident?
A: Generally speaking this shouldn't happen. All of these are designed with a cover over the button or some type of protection/confirmation that prevents you from just inadvertently setting it off. Always use these with care and only in a true emergency.
Q: Do these really work?
A: Modern personal locator beacons are designed to hit a satellite system that will get the ball rolling on local rescuers to get moving and locate you and extract you out of a bad situation. As long as the beacon is in good working order, they should absolutely work when you need them most.
Some Final Thoughts
Having an emergency beacon is always a good idea. Whether understanding the importance of being prepared on the ski slopes in winter or during long hikes in truly wild territory, or having one you never leave home without, a good emergency beacon can be an incredible device that will truly make the difference in a life and death rescue situation. Do your homework, check out how each beacon system works, and make sure to get one that will be there for you when you need it most!
Great How to Select the Right Emergency Beacon YouTube Video