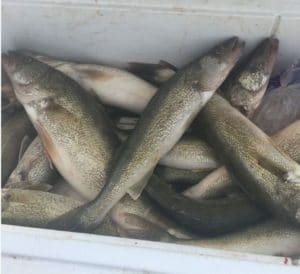 There are many options out there when it comes to finding an outstanding fillet knife, but is more modern always better? Electric fillet knives definitely offer more speed and the ability to really dive through a large number of fish and make the actual cutting easier.
However, is that worth giving up the control and precision from a regular fillet knife?
I guess for me it really comes down to personal preference. Most of the time I prefer a traditional fillet knife to get the most out of each cut but if someone drops 40 walleyes in front of me…then maybe it's time to grab for the electric fillet knife!
There are many options out there, but not a lot of them that are actually that good. At least they didn't hold up when we tested various electric fillet knife models.
What's left here are our list of the best electric fillet knives available. The ones that actually held up to testing – the ones that are actually worth spending your money on.
So read on to answer the question: "What is the best electric fillet knife?"
Top Rated Electric Fillet Knives
Hopefully this list expands more in the future, but to answer the obvious question of: "Why are there so few electric fillet knives listed?"
Well if you've been with us a long time you know why, if you're a first-time visitor, then first of all, HOWDY! Second, it's because we are NOT one of those affiliate sites that list off 20 options.
There are very few knives listed because there are tons of terrible ones, and there are very few good ones. 
We stand by our reputation, so we only list those we were impressed with – so if you need one buy in confidence. These are the best out there right now.
Rapala Heavy Duty Electric Fillet Knife
Well this really shouldn't surprise anyone who is a serious angler. Rapala is a major name in fishing, and in my opinion they make many of the best crankbaits around. They also make the best high end heavy duty electric fillet knife.
Crafted from top notch materials and featuring a heavy duty motor designed to give speed and power in every cut, this knife really does perform. Rapala's electric fillet knife lives up to the "heavy duty" description and delivers.
The blades are 7.5 inches in length, dishwasher safe, and consistently fit perfectly – something that bizarrely is an issue with many other electric knives.
Weighing a mere 4.8 ounces, this knife is very lightweight yet it doesn't feel flimsy at all. This fits the hand comfortably and consistently was one of the best knives we tested when it comes to a clean smooth cut. The control was excellent, and we have very little doubt that the knife will last well beyond the 1-year warranty no matter how much use we put it through.
Rapala proudly claims it has double the speed and three times the power of your standard electric knife, and based on a lot of knives we tested that didn't make the list, these claims actually seem pretty much in-line with what our testing found. While we won't say that this is that much stronger or faster than other top heavy duty electric knives on this list, this is clearly a premium knife.
Even after really putting it to the test, the cutting was as solid and smooth as ever and the knife did not heat up. Even after going through ten fish it still felt comfortable in the hand. Plenty of anglers we know even use this as an electric kitchen or carving knife, claiming it just keeps on working whatever the job.
There isn't much we have to say bad. These do tend to come in those really annoying "clam" packaging that is a pain to open and it would be nice if they included a shield or sheath for the blades. There were some reports that the motor doesn't like to disengage the first few times the knife is used.
We didn't experience this personally but there have been enough reports of this from multiple sources that we feel like we need to to at least acknowledge it as a potential "con."
What's the most amazing part of all of this? Generally speaking this is one of the cheaper options anglers can find among the heavy duty electrics. That means our top overall electric fillet knife is also the best budget-friendly electric fillet knife, as well!
Click HERE to get an up to date price on Amazon.com   – or – 
Click HERE to check out Rapala's Electric Knife/Fillet Knife COMBO 
American Angler PRO Professional Grade Electric Fillet Knife
There weren't many electric fillet knives that stood a chance at giving Rapala a run for their money, but American Angler PRO was the best one we found. Billed as a "professional grade" electric fillet knife, there's a lot to love about what American Angler brings to the table.
Based out of Harrison, Ohio, this is a heavy duty electric fillet knife made in the USA and puts an emphasis on torque and power. This is a knife that is versatile thanks to a wide array of blades to choose from and a design that puts plenty of power behind the blade to help it slice through even the thickest of fish bones.
This electric fillet knife is known for being able to cut with ease and in our testing it did not disappoint. The handle is comfortable, and although the handle could get a touch warm after a long period of cutting it wasn't that bad. Especially considering how hard we had this blade tested. 
After all if you're going to call your fillet knife "heavy duty," we're going to put that to the test!
The warranty coverage is solid, with 2 years on most of it and a limited lifetime warranty on other parts. This knife is compatible with multiple replacement blades making it the heavy duty electric fillet knife that can adjust no matter what the job or the fish that you'll be working your way through.
We can see why the American Angler Pro Electric Fillet Knife is an absolute favorite among professionals. This is a fillet knife that has been consistently tested and re-tested, as have the various replacement blades, and touched up bit by bit to create one of the finest automated knives on the market.
This is one of the best electric fillet knives for Redfish scales, big boned tuna or muskies, and everything in between. While Rapala is our top overall choice, American Angler PRO holds up and can be considered right in the same league. 
There aren't many cons and we had to do a lot of asking around to find anything to complain about. There are reports that sometimes the trigger can stick a bit, and for optimal use it can take some time to learn how to match up the blades, but all in all this is a truly amazing large electric fillet knife.


Multiple Replacement Blade Options
Whether looking for the best electric fillet knife setup for bluegill, croppie, and other panfish, or a big freshwater catfish, or even a challenging saltwater fish, there are plenty of options available from American Angler. Whether stainless steel or titanium, there is a lot to love about the sheer versatility of different blades that this brand offers.
From as small as 5.5 inches that are perfect for many trout and panfish up to full 10 inch blades that are even designed to be able to handle heavy duty fish like salmon, lake trout, grouper, or even tuna. 
Versatility is a strong point and if you have this fillet knife, it's worth your time to have an array of blades to handle any catch you come across as well!
Check out THIS PAGE for a list of American Pro replacement blades on Amazon!
Rapala Lithium Ion Cordless Fillet Knife Combo
Yup, Rapala shows up on the list again! While the one at the top is a more conventional plug-in electric fillet knife this is the cordless electric fillet knife from Rapala. The designs are similar, but there are some key differences that keeps them separate.
The cordless fillet knife is powered by a lithium ion battery and comes with a wall charger so you can re-charge the battery after a long day of filleting your haul. This reliable cordless electric fillet knife gets the job done and maintains a very high level of quality throughout.
The battery holds up to 80 minutes of run time, which should be plenty for the average angler. In fact, short of long-term commercial use that should be enough for about anyone, in which case alternating two of these should do plenty fine!
This is a fairly reliable electric fillet knife and anglers have the option to buy extra batteries to replace old ones or switch out as they see fit.
In this case the cordless version is sold as part of a combo package that includes:
The cordless battery-powered fillet knife
2 lithium ion batteries
6″ blade
7.5″ blade
Wall charger
EVA padded storage case
While not quite as good as the top two on this list, for people who absolutely want a cordless model and the convenience that brings to the table, this is the one we most recommend.


Bubba Li-Ion Cordless Electric Fillet Knife
Although relatively new on the scene, we have some high hopes for the electric fillet knife that Bubba Li-Ion has put forward. This is a heavy-duty fillet knife that has a little bit of heft to it at 1.11 lbs packed into a compact package. The 8 and a half inch handle is a good length and the non-slip grip is a nice addition although the trigger guard might get a bit in the way if you have larger hands.
There are flexible and stiff blades that can be easily changed out depending on what you need out of the knife, and varying blades start at 7 inches and go up to 12 inches for a larger size. 
This is a cordless battery powered model, which is a plus for those anglers who like the extra freedom of movement that this allows. 
Harnessing 110v of power, there's a lot of potential here and the early practice we've had with it looked good. While this doesn't have the track record of many of the other electric fillet knife options on this list, it reacted well in testing and we hope this continues over the test of time.
We have one friend who swears up and down this is the best electric fillet knife for catfish and he loves the fact it comes with an extra battery. He had nothing but good things to say and honestly after over a dozen catfish, that's a pretty good endorsement.


Mister Twister 120V Electric Knife
This rounds up the top five, although it's important to note that this is not technically a fillet knife. This is a regular electric kitchen knife, but it does well enough with panfish like perch, bluegill, and sunfish that are smaller in size. 
While this is not a replacement for your conventional fillet knife, as a kitchen knife cutting through the fillets it isn't a bad choice. This 120 V kitchen knife has all the features you want: safety lock, blade release, and solid power.
This is an electric knife that is a bit above the average kitchen option as it is designed with the hunter, angler, and farmer in mind. Having the ability to use it repeatedly for meat means being able to make a lot of hard cuts that otherwise could really dull down a cheaper model.
This is generally going to be the lowest priced option on this list by far which makes it very budget friendly, but it doesn't have the special curved blades that make a fillet knife perfect for cutting fish. 
While a solid electric knife for the kitchen it is still important to note that you get what you pay for and while we were extremely impressed with how well this worked for an inexpensive model, as a proper fillet knife it doesn't compare to the earlier ones on this list, in our opinion.


Electric Fillet Knives vs. Traditional Fillet Knives
There are both pros and cons to going with an electric fillet knife, and although I've already stated my preference for the traditional style, that doesn't mean there aren't times where I would be more than happy to go the other direction. Situation matters!
Generally if you care more about speed and ease then going with an electric fillet knife. On the other hand if you want precision and to get every little bit of meat then you definitely want to go with the extra precision you get from a traditional fillet knife.
While we've talked about traditional fillet knives allowing more precision cutting that does come with a caveat: the knife must be kept sharp via regular maintenance with a good knife sharpening stone and you need to learn to use a traditional fillet knife well. 
This is a skill that takes time to master fully, if you want to do the extra work for the extra little bit of fish.
Pros of Electric Fillet Knives
Much easier to cut large numbers of fish at once
Need less hand and arm strength 
Like many automatic or electric appliances, it makes the task much easier and simpler
Cons of Electric Fillet Knives
Doesn't have the same precision as a traditional fillet knife – more meat will be wasted on the fillet
You are reliant on a battery and/or power source
A good sharpening stone can keep a traditional fillet knife sharp for a lifetime – electric will need replacements eventually
No, Electric Carving or Kitchen Knives Are Not the Same Thing
While it can be easy to understand why they might get confused for one another, it's important to note that electric carving knives, electric kitchen knives, and electric fillet knives are different things. Each one has blades that are designed to cut a certain way and to excel in that one role.
While they are all related, and you can say they are all electric knives, they are going to work best at cutting in the way they were designed. It is true that you can interchange them a bit here and there, but it's best to just eventually fill out your kitchen/outdoor gear with each type of knife.
So while similar you need to keep in mind that:
Electric carving knives and electric fillet knives are NOT the same thing
Electric kitchen knives and electric fillet knives are also NOT the same thing
Understanding that this is detail-oriented and not just semantics will help you make sure you have the best kitchen set up and the best fillet knife for the job.
What to Look for in an Electric Fillet Knife
There are several things you want to look at before purchasing an electric fillet knife. The best models have most or all of these traits in common and sometimes all it takes is missing out on one of these for that to be enough to go with another option.
Reputation
Reputation matters because it takes so many other factors into consideration. If a company has had a stellar reputation for 30 years, then that's a pretty good sign that they care about quality. You want to not only look at positive reviews but also look at what the negative reviews have to say. Try to balance out where the real issues are and if in doubt, going with the company with the longer standing reputation is often the safe bet and not a bad tie breaker when it comes to making a buying decision for the fillet knife you want.
Durability
Electric fillet knives tend to be a bit more on the expensive side, and this is not a purchase you want to be making every year. And you shouldn't have to if they are well made. There is just something to be said about durability and in the long run it not only saves you money but it also tends to indicate better craftsmanship, better materials, and chances are if it's built better it will last longer.
This is why so many anglers want an electric fillet knife with metal gears – because those tend to hold up a lot better over the long run than plastic or composite models.
Functionality
Are you okay with a plug-in model or do you want cordless? Is the cut smooth? Can you change out blades to work on both freshwater and saltwater fish or both large and small? How much versatility do you want out of your fillet knife? Answering this question can go a long way towards pointing you to the right choice for your specific needs.
Comfort
Look it can be the best cutting knife in the world but if it is hard to grip, uncomfortable to hold, or heats up to the point of being really uncomfortable then what's the point? You need to be comfortable when using these knives to get the most out of them.
Price
Hey, budget matters and the prices can vary by $100 or more from one model of knife to another. All the more reason to look at all these factors before making a final decision.
FAQ
Q: Why don't you have Berkley's electric fillet knife?
A: While we generally like the Berkley brand, and they do a lot of things really well, while testing their fillet knife we found that it worked well for the first one or two fish, if you went through any decent number of them this knife began to overheat badly. It was extremely uncomfortable, not to mention a bit concerning, and performance suffered as a result as well. They just didn't make the cut after testing it out.
Q: Can you sharpen electric fillet knife blades?
A: This is possible for most models, though it can be a bit tricky since the blades are designed to be attached or detached for cleaning or changing out. This means it can be harder to use a traditional sharpening stone safely. However there are multiple options, just be aware there's a good chance it will be more time consuming and you will want to take all proper precautions using protective eye and hand protection.
Q: How do I sharpen electric knife blades?
A: Especially when dealing with serrated blades, you will need some special tools or equipment. Instead of trying to explain it, this is really something you should see so here is an outstanding video review on how to sharpen serrated electric knife blades.

 Q: Who makes the best electric fillet knife?
A: We believe it's an absolute toss up between Rapala and American Pro. American Pro tends to be a bit more expensive which is why Rapala gets a slight edge but if an angler wanted to argue with us that American Pro was the better heavy duty fillet knife, we'd have no problem with that point of view.
Q: What is the best electric knife for panfish?
A: Any of the knives on this list will cut through panfish to your heart's desire – just remember to invite us over for the fish fry!
In Conclusion
There's little question that Jon and I both personally prefer the old fashioned fillet knife as opposed to the electric versions, but that doesn't mean we don't understand the appeal…or give into the ease of it once in a while. Especially when there's some serious bulk filleting that needs to get done after a massive haul.
There are several good options out there, and we do like the versatility that comes with some of these models. That being said, there are clearly some really good options among the best electric fillet knives and there's also room for another really good few new models if the right company comes along.
Angler Comparing Traditional Fillet Knife to Electric Video
Other Articles of Interest