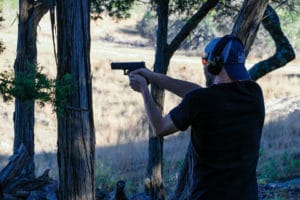 Well-performing ear protection is a necessary accessory for anyone who enjoys hunting or recreational shooting. Even if you're firing a relatively quiet gun, the constant bang can do permanent damage to your ears overtime. However, unless you invest in ear muffs that can effectively block out the noise, you could possibly suffer irreversible damage to your hearing. Whether a hunter or recreational shooter, you need to take a look at the best ear protection for shooters currently available out on the market.
When choosing the right ear protection, you'll not only want to go with a product made by a reputable brand, you'll also want to invest in a pair that sit comfortably on your head and are easy to travel with.
All of the products listed below have the highest reviews and are definitely worth the buy. Read on and find the right shooting ear protection for you.
Best Ear Protection for Shooters
There are several outstanding options that are available currently for shooters. While all of the following options are all about protecting your hearing even during a very long day of shooting, some will be shooting ear muffs while others could be specialized ear plugs. Even among ear plugs for shooters there is a wide array of options that shooters can choose from.
The following are some of the absolute best options currently available. Read on to find the best option for you before your next recreational shoot!
Honeywell Howard Leight Ear Protection
The Honeywell Howard Leight ear muffs are superior to most other products on the market. These safety ear muffs feature ambient sound amplification and even have automatic noise blocking. Simply put, low-level sounds are amplified with zero distortion. Any noise reaching 82 dB or above will be blocked for your safety.
Not only are these Howard Light protective ear muffs effective, wearing these bad boys are extremely comfortable too. The earcups have a thin design to prevent you from being distracted when you aim and are made from a real soft padding that is truly a joy to wear. Lining the top of the inner headband is another soft pad for even more comfort. When you put these protective ear muffs by Honeywell on, you won't even know you're wearing them.
If that's not enough to impress you, the built-in external audio jack should. Enjoying you MP3 player when you're not shooting is definitely an added bonus. All you have to do is hook your cord into your favorite media device (MP3, smartphone, tablet) and push play. The process is that simple. When you're done for the day, fold your firearm earmuffs up and put them away.


Mpow Noise Reduction Safety Ear Muffs
If you're looking for quality ear protection without all the fancy bells and whistles, then you'll definitely want to check out these Mpow shooting ear muffs. Featuring an extremely soft, padded headband and even softer foam earcups, this protective headset sits comfortability on your head.
In addition to that, it is so lightweight that you'll never experience any neck strain whatsoever.
The swivel cups also add to the overall comfort. Adjusting these cups to the size and shape of your head is no problem at all and can be done within seconds. These protective earmuffs by Mpow can be accommodated to fit both adults and children.
Although comfort is important, so is advanced protection, and that's exactly what you're getting here. These protective shooting earmuffs have been both tested and certified and have a 34dB noise reduction rating. The 2-layer foam will ensure that your ears will be safe no matter what kind of firearm you're shooting.
You could fire a cannon and still be in the clear. These noise reduction earmuffs are definitely worth the buy and a great all-around investment for any hunter or recreational shooter.


Walker's Razor Slim Ear Muffs
These shooting earmuffs probably deliver superior protection and can compete with just about any other product on the market. With a noise reduction rating of 23 dB, you can feel confident knowing that your hearing will always be protected no matter how loud the bang. If you enjoy shooting heavy artillery, then the Razor Series is definitely a fantastic choice.
Listening to your MP3 player or another media device is a luxury many people enjoy, and with the convenient audio input jack located on the side, you can rock out to your favorite tunes or podcasts whenever you want. These protective firearm ear muffs even have built-in speakers and Omni directional mics too. You'll really appreciate the high-quality audio every time you push play.
Sporting these Walker's slim ear muffs are also extremely comfortable. The padded headband and soft, plush ear cups really add to the overall experience. There's nothing worse than wearing uncomfortable hearing protection.
Once you put these on, you'll understand why this shooting accessory has received so many positive reviews.


Pro For Sho 34 dB Shooting Ear Protection
Delivering both the highest ratio in hearing protection and advanced comfortability, these top-of-the-line ear muffs are a must have for any serious hunter or recreational shooter. This Pro For Sho headset will successfully block out all noise up to 34dB and are made out of a material that's not only extremely lightweight but also exceptionally durable as well.
Another feature that's quite impressive about these noise reduction ear muffs is their ability to fold up and be easily transported in either a backpack, an ammo bag, or even a duffle bag. This design is great for anyone who enjoys going on extended outdoor adventures or lengthy hunting trips. This is one hunting accessory that won't take up a huge amount of space.
When you invest these protective firearm ear muffs, you'll have a choice between 10 different stylish colors. In addition to this, every purchase comes with a 90-day, no risk, money-back guarantee and a limited warranty to go with it. This is one accessory you don't want to pass on.


Mpow Noise Reduction Safety Ear Muffs (Upgraded)
Protecting your hearing is definitely a wise decision, and when you use the these Mpow noise reduction ear muffs, you'll have nothing to worry about. These babies incorporate NRR Sound Technology and are both ANSI S3.19 and CE EN352-1 certified with a SNR 36dB / NRR 29dB rating. Now, this is some serious hearing protection for the money.
The secret is behind the 2-layers of noise-reducing foam in both of the inner cups and the tight fit around the shooter's ears. Don't let that fool you though. These protective shooting ear muffs feature soft, plush foam in both of the inner cups and are so comfortable that you'll forget you even have them on.
The lightweight design won't put any strain on your neck and allows for easy transportation.
When you purchase hearing protection by Mpow, you'll get a stylish bag to carry your new toy in. This bag is keeps dirt and dust from getting in and can easily be stored in a backpack or ammunition case. Pick yours up today.


Walker's Razor Slim Passive Ear Muffs
From the nylon covered headband to the hard-plastic earcups to the metal screws holding everything together, these protective ear muffs by Walker's are made out of the very best materials available. This is one tough shooting accessory that's built to last.
The razor thin design is also another awesome feature. This design is extremely lightweight, won't weigh your head down, and provides a distraction-free experience when you're shooting your firearm. Walker's is a company know for producing quality products, and these noise reduction ear muffs are no exception.
For easy storage and transportation, you can easily fold up this protective shooting headset and carry them in your personal bag with no problems at all. Taking your new accessory with you is no problem at all. There's a reason that Walker's is a name that many shooters have long trusted.
If you enjoy convenience, then put your trust into Walker's. They have you covered with another outstanding example of shooting gear.


Vanderfields NR35X2 Premium Protective Ear Muffs
Vanderfields is a company know for producing high-quality products, and when you invest in these protective shooting ear muffs, you'll understand why. The 26NRR noise reduction rating is quite impressive, but because this headset has also been fully tested by both the American National Standards Institute as well as the European Standard, you can feel confident knowing you're getting the very best in hearing protection.
Another really impressive feature is the overall design. These protective firearm ear muffs by Vanderfields can be easily folded up for convent storage and are extremely comfortable to wear.
You'll absolutely love the soft padding on the inner side of the headband as well as the outer ear cups. These stylish little gem is a joy to wear.
In addition to that, these shooting ear muffs come with a company backed 100% satisfaction and risk-free warranty.


Why Protective Ear Gear Is So Important
This article from the National Institute on Deafness and Other Communication Disorders goes into detail on studies done on hearing loss in individuals who have participated in shooting sports over the years. There's no question that there's a huge difference in later age between those who took the proper steps to protect their hearing and those who didn't.
The sound of a gunshot is loud. That might seem like an obvious detail but many people don't appreciate just how loud they are.
Basically any sound above 140 dB can cause hearing damage. This is true even if it is just a one time exposure. Virtually every single firearm makes a sound at 140 dB or above when fired, including the mere .22 rifle.
Exposing yourself to this type of repeated noise without protecting your hearing is just asking for problems not just with short term ringing of the ears but also long-term permanent hearing loss. In extreme cases this can eventually even lead to being deaf.
So protect your ears. The cost is definitely worth the benefit!
Other Articles of Interest
In Conclusion
There are plenty of great options when it comes to proper ear protection while shooting, and the ones offered in this article are some of the absolute best that are out there. If you're not a big fan of ear plugs, these are the best protective shooting ear muffs that you will find out there. Featuring a wide variety of different designs, colors, features, you have plenty of options when it comes to finding outstanding ear protection while out range shooting. This is an investment you won't regret!
Shooting Eye & Ear Protection Video