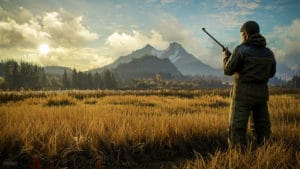 There's just something about deer season, isn't there? In my family deer hunting season was the equivalent of the Christmas holiday. Whether you're down in the eastern hill country of Texas or looking for the big corn fed deer in the woods of Iowa, it's hard to deny that deer hunting is one of the most consistently popular hunting seasons out there.
In our family deer hunting season took the place of all November/December birthdays, Christmas, and excused those old enough to have their own families, college trips, or whatever to do their thing on Thanksgiving. But a pre-determined early week in December for Iowa deer season? That was the sacred holiday no one was allowed to miss.
If you find yourself going over a new piece of land or looking to get that trophy buck you've yet to bag, it might be time to take a look at purchasing a new deer call and seeing if that was the missing piece.
Check out this chart for a summary or read on for in-depth reviews of our 7 top rated deer calls!
Realtree Extinguisher Deer Call
There are many really high quality deer calls out there, but the extinguisher deer call manufactured by Realtree stands out as a step above and beyond the competition. A major favorite of hunters who have used it successfully out in the wild, this deer call is not only effective and easy to use but it even comes with a DVD instructional video that can help complete newbies get the hang of how to use this deer call most effectively.
This is an extremely versatile design and the DVD quickly becomes useful as it shows how minor changes or shifts can make all the difference when it comes to the exact type of call you want. This particular call has settings for bucks, for does, or for fawns. Depending on what you're looking for, whether it's a picture or pulling in a trophy for hunting season, by adjusting the types of calls. The wide variety of tones gives you what most hunters or wilderness photographers always want more of: good options.
While it can take a bit of practice to get the call down right, the DVD is definitely helpful and the time is well spent so you have a solid mastery of the RealTree Extinguisher deer call before you head out into the actual woods to see it work in the wild.
This popular deer call for hunters is versatile, works well, is easy to transport, and in fact works in every single type of weather. Receiving hundreds of positive reviews from actual hunters, it's hard not to like everything these deer calls bring to the table.
While the different design might take a little bit of getting used to, there's a lot to love about RealTree's top rated deer call and we feel very confident putting it at the top of this list.

Primos "The Original CAN" Deer Call
There are many different deer calls out there, but Primos puts down its claim as the original designer of the "Can Deer Call," and they make a good case. A more familiar and conventional design than the RealTree Extinguisher model, this high quality deer call is inexpensive, easy to use, and even includes grip rings so you don't have to worry about it slipping through gloved fingers on cold winter mornings.
This can has been used by hunters for decades, and the quality of "The Can" has been solid. There's a reason it's one of the top rated deer calls on this list, and a reason it has remained so popular with hunters over time.
These can deer calls by Primos were designed to be used out in the wild, in rough and tough environments, so they would hold up wherever hunters needed to go to find that trophy deer. That means high quality materials and solid construction, and that has been a winning combination for several decades at this point.
A raised thumb hole locator means it will be a lot easier to make sure you have a solid seal and get the consistent estrus bleat call from the can that will attract males looking for a doe during mating season. Whether pre-rut, rut, or post-rut, the Primos can will get results whether you are hunting for blacktail deer, mule deer, or whitetail deer.
A very solid option that most hunters will fully appreciate.

Primos Hardwood Grunter Call
Really it should come as no surprise that one of the original makers of the high quality can call would also have other top notch option on this list. While "The Can" might be the animal call for hunters that is most well known, this Grunter Call is an exceptionally designed and constructed deer call with a beautiful hardwood design that virtually any outdoorsman will truly appreciate.
When a company that has been trusted and approved by hunters for decades produces a high quality item, you want to pay attention. Primos hits the mark once again with this outstanding piece of hunting gear. This is a brand that is built with hunters in mind and that means being built to deal with real world conditions. That also means testing in real world conditions and not in a safety lab with plenty of padding and moderate temperatures.
Heavy duty testing in the field during the season is the only way to know for sure if a deer call is up to snuff, and credit given where it's due: Primos has done just that.
Finally, there's beauty in simplicity. This model offers a "6 in 1" variety of available calls, meaning you have the ability to make sounds like bleats, grunts, and everything in between. The hardwood design not only looks great but also helps create extra loud volume and a fuller sound that will attract the bucks. If you don't like the tone you're using, expand or contract the hose to create various tones and see which one works best for you in your local hunting area.

Hunters Specialties True Talker Deer Call
While the over the top and in your face marketing copy that comes with this deer call can be a turn-off for some, don't let the marketing dissuade you from an excellent deer call. The yellow and green color combination is a bit plain or basic, but it comes with a convenient attached lanyard to make for easier carrying when out and about hunting.
This deer call has received a large number of reviews from hunters, and they have generally been positive. The main bragging point seems to be that the fingering membrane is flexible and allows for a great inflection or variation of each call just by a little bit of pressure or rolling the finger to create the right sound for your situation. Whether trying to make the sound of a small lost fawn or a big buck, you have options.
While this trait has been extremely popular with many hunters out in the field, some do complain that in practice with their model the ability to adjust the calls in a reasonable way is much less than what the advertising suggests. These complaints do seem to be in the minority, but they do exist, and need to be taken into consideration especially if that feature is a major reason you're considering this brand of deer call.
All True Talker deer calls by Hunters Specialties come with a lanyard for easy carrying as well as instructions on how to use it, and some come with a special carrying bag.

Primos Buck Roar Call
If looks matter, then it's hard to argue that Primos doesn't take the cake when it come to the really good looking and really well designed buck calls currently on the market. The buck roar call by Primos is one of the best looking designs out there that uses the best materials while creating an aesthetic look that mimics the traditional wood and leather appearance that many old school hunters will appreciate.
But when it comes to finding the best outdoor hunting gear looks simply aren't as important as functionality, and fortunately for those of you who absolutely fall in love with the really beautiful aesthetic of this call, it's also one of the consistently highest rated online.
There is no shortage of verified purchasers who rave about just how great a buck call this is, and the general consensus is the same: this is an outstanding piece of equipment that definitely give you more opportunities to bag that trophy buck!
This model even includes a strap that lets you attach it to your wrist or arm for easy carrying and easy access to use. That extra level of convenience makes a huge difference when you're out and every second counts so you can concentrate on the hunt at hand.
This is a fantastic option for the deer hunter in the family, and aside from the roars that this call produces, you can also make solid bleat sounds to give yourself the ability to change things up and get the buck towards you and away from whatever else is distracting it, depending on your specific situation.
A good demonstration video can be found HERE.

Flextone Bone Collector Buck Crusher Deer Call
If you're a major fan of the hunting and fishing shows on TV (Jon and I used to spend plenty of Sunday morning hours watching the old fishing shows on the TV with Dad) then chances are pretty good you might already be at least a little bit familiar with this one. Featuring a really unique shape and design, the Bone Collector deer call is all "all in one" call designed to allow you to make buck calls, wheezes, or even calls to sound like a doe.
This gives you the ability to adjust your strategy. Do you want to sound like a doe during rut to attract the bucks? Do you want to see if they come up to the challenge of another buck in their territory?
There are plenty of options here that will help you choose the best strategy to get the job done and give you your best chance at filling out the tags and maybe even getting a shot at a big trophy buck.
This deer call can strap to the forearm or wrist, and is designed with bow hunters in mind to allow them to still get full draw. This is the same deer call that is fully endorsed by avid hunter and outdoor TV personality Michael Waddell. Well built deer call that is also durable and will last the test of time.

Hunter's Specialties Bucgrunter Deer Call
Rounding out our list well short of ten (because honestly, we didn't find 10 deer calls we felt comfortable approving – so this is the list of the best that were out there) but the BucGrunter Deer Call by Hunter's Specialties is a high quality option that many hunters love, and it's not hard to see why. They are well deserving of the final spot on this exclusive list of top rated deer calls.
The focus on this deer call is the variety of different grunts that it can accurately reproduce. Do you want to make threatening sounds to stir up territorial males? Reassuring grunts that are meant to be comforting? Tending sounds that help create a third mood that can draw in potential future venison?
This is a well designed deer call that has flexible ribbed tube channels, and help produce that very deep and gutteral sound that is going to bring bucks closer to line up that perfect shot you've been dreaming of. Cupping your hand over the end can help change the tone or inflection, opening up an entirely world of possibilities.
This call comes with a lanyard for easy carrying as well as instructions for how to use them. Like we said: a great final entry to this list.

Get prepared for deer hunting season!
No question that you have plenty of different things to look over before getting geared up and heading out. Whether you are an old hand using deer calls or an experienced hunter looking to expand your gear list and tactics, there are plenty of great options to make sure you are fully prepped for deer season – wherever you might be when you get the green light to go after those white tails!
Safety always needs to be a high priority, and you want to go out for another shot at a deer it is important to make sure that you have every piece of equipment to not only help make you successful but to also keep you safe. With that in mind, take a look at a few of the other items for sale here, and make sure to have a safe and fun time going after that trophy buck…and save some of that venison sausage for me!
In Conclusion
While some deer hunter are all about the deer stands and others prefer walking the grounds, for those who love using deer calls hopefully this article helped hook you up with the best possible match for your needs. There are plenty of quality options out there, so take a look at what they have to offer, give your guns a thorough cleaning with the right gun cleaning patches to make sure they're in tip-top shape, and get out there and draw those trophy bucks in with your new reliable deer call!
Other articles of interest:
Good Introduction to Deer Calls Video