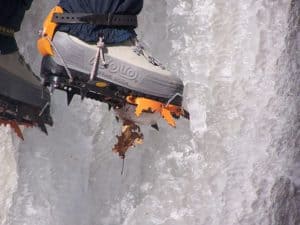 Talking about crampons might not be sexy, but there's a reason they're so important to many backpackers, hikers, and other outdoor enthusiasts. There are many outdoor adventures I've managed to check off of the bucket list, and many more that I want to eventually knock off of my ridiculously long travel & outdoors bucket list, but one thing I'd like to avoid is careening out of control down the side of a mountain because my feet gave out from under me during a snowed or iced over section of a dangerous mountain trail. No thank you.
However with many of my goals and traveling ways, it's only a matter of time until I run into some snowed over trails once again, and that means needing the right equipment to stay on my feet and make sure my adventure ends up a great experience and not a harrowing spill down the side of a steep mountain trail (been there, done that, don't want to repeat it).
Whether you are looking for extra footing on snowed over trails, getting into mountaineering, or literally scaling the side of an ice wall, you want to make sure you have the right safety footwear on to see the entire trip through.
STABILicers Walk Traction Ice Cleat
There are two names that really rise to the top when it comes to a solid snow and ice cleat, and STABILicers are one of those two brands (Yaktrax – the next entry – being the other one). Made in the United States, these attachable cleats are made in a variety of sizes and have a great reputation for providing the solid grip and stability you need in slippery snowy and icy conditions.
These are multi-directional cleats, which gives you a lot of options when it comes to being able to change direction, get a solid grip, and really take advantage of that strong balance and mobility. These are designed to stretch to fit, then fit snugly around the hiking boot or shoe.
STABIL has a reputation for being easy to secure onto any shoe, then stay in place to give the full on-going traction that you need. These have even be tested to remain fully flexible and functional in temperatures as frigid as -45 degrees Fahrenheit.
In addition to this, STABIL crampons have gone above and beyond in testing not only function but also has spent a lot of time testing to make sure these were optimally designed to help avoid foot stress and injury and prevent slipping in any given situation.

Yaktrax Walk Traction Cleats
Yaktrax is the other giant name when it comes to adjustable rubber snow cleats for walking or trekking across ice and snow. These crampons come in four main sizes, are created from a very strong yet flexible rubber molding, and has been tried and tested for many years out in the field.
In fact, there are literally thousands of reviews online that show an overwhelming positive response to these crampons from outdoor enthusiasts who use this gear and know what really works versus what doesn't. These might be small, but they are absolutely crucial pieces of gear that can make all the difference when it comes to keeping your balance, making your way across snow and ice, and being sure foot throughout the entire process.
These are resistant to wear and tear, and the steel coils are coated with zinc specifically to help prevent rust and make sure these hold up after bad weather use year after year. This means that these will last the test of time and continue to provide their renowned 360 degrees of traction with quality that doesn't diminish over time.
With sizes in x-small, small, medium, and large, most people will have no problem finding a good fit for their footwear and the elastic outer band helps guarantee a good fit that is reliable and safe from cold weather breaking all the way down to -41 degrees F. The ease of fit and use means that these aren't just great for many backpackers and outdoor enthusiasts but can also work for everyday use in snowy northern climates for regular pedestrians, professionals, and even helping make sure the elderly stay as sure footed as possible when poor weather hits.

Hillsound Trail Crampon Traction Device
Built with the more serious trail hikers in mind, especially the ultralight crowd and long distance through hiker who will still find some rough snow and ice terrain along the way, these crampons use the traditional design of chains and metal spikes attached to a thick elastic composite harness.
This important detail is how the spikes and connecting chains can be forged from solid metal that will really die into the snow while the harness is strong but also flexible enough to be properly fit around most footwear. Whether a pair of hiking boots or a sturdy pair of trail shoes, these crampons are designed to make sure every single one of your footsteps is firm and secure.
The spikes are 2/3 of an inch long and are designed specifically to give firm footing and grip no matter how dicey the winter weather and temperatures have made the footing. These crampons might not yet have the attention of the top two on the list, but they are incredibly highly ranked and a favorite of many outdoor enthusiasts who would know and have taken the time to test the top models on the market.
That's pretty high praise and a great endorsement, especially when quality matters to you. And for a piece of equipment that can mean the difference between life and death, it needs to.

Kahtoola MICROspikes Footwear Traction
Kahtoola has earned its spot here as a really top notch option when it comes to outdoor enthusiasts looking for particularly strong and sturdy design that is quickly gaining fans. These award winning micro-spikes dig right into the ice and give a sturdy grip you would otherwise not have. These give a degree of balance that winter warriors will definitely appreciate.
Whether you're into winter trail running, need the right equipment for that hard core hike (like my PCT thru hike goal on my bucket list), or keeping your balance while setting up the perfect ice fishing hole, these metal crampons won't let you down!
Featuring a dozen stainless still spikes per crampon, these come in four sizes to make sure whatever your foot size, you are likely to find the perfect fit (unless your feet are especially large, which is an issue I definitely have).
There's a good reason that these are on par with all the other top rated crampons that are currently on this list. Kahtoola has created an exceptional outdoor product that will help you tackle any snowy or icy weather and manage to stand tall and confident while doing it! A very worthy addition to this list.

Quik Solve Ice Snow Traction Boot Cleats
Available in four different sizes, the no slip gripper spikes that are put out by Quik Solve have received a warm welcome since their introduction into the marketplace, and it's not hard to see why! These removable snow traction cleats have received overwhelmingly positive reviews, and while there are certainly other attachable snow cleat manufacturers that would argue with the "ultimate traction" claim, they're certainly able to back up the claim that their 10 point stainless steel cleats are rock solid when it comes to giving you the balance and sure footed stance needed to be fully active without concern even on questionable ground.
These spikes are designed to work with all manner of shoes and boots, although for very large or bulky boots it is recommended that you go one size higher to make sure the fit is ideal.
These addable cleats are designed to tear right through ice and snow, making it a lot easier to get about no matter what the need from the fun like ice fishing, winter hiking, or hiking a particularly challenging area of thru hiking to the mundane like shoveling the sidewalk, running errands, or just avoiding the slip and trip on an icy sidewalk, these cleats will help see you through.
Thoroughly tested and approved for men up to 300 pounds, these lightweight grips are a godsend during the rougher and colder seasons. They are very easy to slip on and once on the feet, they are secure. Add in a lifetime guarantee that is also 100% money-back and you can see why these popular crampons have rocketed up our best of list.

Limm Pro Traction Cleats for Snow and Ice
Coming in five different sizes and designed around outdoor footwear for both men and women, meaning a better fit since it takes into consideration the differing sizes and foot shapes (and thus shape of footwear) that exists. Who doesn't like a better fit?
These Limm traction cleats are designed to help make sure you never end up slipping on snow or ice again. When properly fit, they are a great way for making your way over icy streets or snowy trails, and are so well designed that the flexible cleats can be rolled up for easy carrying.
These offer strong anti-slip protection through the use of 10 steel studs. Whether on ice or snow, these punch through and give you a firm grip that will help you more confidently and safely make it from one point to another. These aren't necessarily designed for mountain climbing or climbing ice walls, but they do offer exceptional traction for everyday use in wintery weather as well as additional balance and support when enjoying outdoor activities when the weather isn't necessary cooperating with your plans.
This choice is particularly popular among runners and joggers who want to enjoy those outdoor activities even when there's some ice and snow out, making the streets or trails particularly slick.

OUTAD Traction Attachable Cleats/Crampons
There are definitely two different schools of attachable crampons: those focusing on better movement in mild ice and snow, that are equally good for everyday use versus being out in the wild, and heavy duty ones looking at serious ice and the need to have a hard core grip like scaling ice walls or incredibly careful trekking over snow and iced over trails that have steep mountain drops on either side. OUTAD's attachable cleats are definitely in the second camp.
This light-weight crampon has 14 aluminum spikes that are multi-directional – meaning they are designed to go in multiple directions from the base of your foot, thus helping to make sure that you are stable. This helps to really create a better balance even in the worst of weather and they come with a special carrying bag to help ease any transportation difficulties that might otherwise exist.
These are fully adjustable thanks to the back straps, although I will state that for people with extra wide feet, the fit can get a bit tight. If you're in this boat you'll want to look at a fit before jumping for the purchase, or keep the receipt on hand.
While there are relatively few reviews currently out, the feedback is overwhelmingly positive at this point as they have definitely found a niche market. Made from manganese steel, light weight with a shipping weight off less than 2 lbs, for many serious outdoor enthusiasts this attachable crampon has been an answer to their outdoor prayers!

Grivel G10 Attachable Ice Crampons
Coming in both the classic color scheme as well as the matic yellow, the G10 attachable ice crampons manufactured by Grivel are a light-weight yet high quality crampon that are fully adjustable by hand for both length as well as width thanks to a design that really takes on the challenge of creating a quality ice crampon that meets the "all size meets all" tagline.
These are designed when you know that you're going to have at least some sections of packed snow or thick ice where you are really going to need some extra help and the right equipment to make sure you make it through. These have also been built with winter hikers in mind, and although there are only a few reviews online as Grivel's entry is relatively new to the marketplace, the early reviews are incredibly positive in nature.
This light-weight universal crampon has made a strong impression with many winter adventurers and the ability to transport these easily as well as to adjust them makes them an increasingly popular choice.
Add on the fact that that some early users are testing these against some stunning challenges and so far coming back with words of praise and several thumbs up.

EONPOW Snow Grips & Ice Cleats
EONPOW puts out a surprisingly unique design when it comes to their snow grips and ice cleats. As you can see from the picture off to the left, these ice cleats can be broken down and easily put back together, and these anti slip grips involved rubber spikes housing steel studs and can help provide a better grip when balance is hard to find.
These aren't designed for climbing up an ice wall or climbing your way onto a glacier, but they are great in helping to prevent slipping whether it's snow or basic ice. These come in small, medium, large, and extra large sizes and there are different cleats for both men and women's shoes – providing a versatility that helps to guarantee a better fit regardless of gender or foot size. More options is a good thing when it comes to find the perfect fit.
While these don't have the same elite ratings as many of the others, this is due in part to the fact they are very much more set for use during the winter with more conventional uses as opposed to more adventurous uses. A winter run through the park might be fine but these aren't designed for scaling an incredibly icy, narrow, and treacherous mountain pass.
However, for the majority of winter needs, this high quality attachable snow cleats even comes with an extra ten studs in case one or more go missing.

Black Diamond Contact Crampon
The Black Diamond contact crampon is another popular choice that might not have the high following of some of the more famous options on this list, but this is a solid four star option that many see as the perfect introductory crampon for many individuals looking to hit their first high winter adventure where special footing is needed.
This crampon is very easy to spot among outdoor enthusiasts because it has a top notch design, with a clear and distinctive stainless steel construction (though don't expect it quite so polished as the sales photo) that refuses to rust, promises durability, and is lightweight enough to make it easy to pack and carry even if you are going on an ultralight adventure and need to look out for every single ounce on your pack.
The flexible toe strap allows this crampon to fit most footwear. The stainless steel construction has a lot of positive feedback, and at a mere 1 lb 13 oz these crampons get the job done without putting a lot of weight on you.

Preparing Fully for Snowy Trails
There's no question that you want to be prepared for whatever outdoor adventure is ahead. Crampons can be a crucial part of keeping balance and making headway in places that you otherwise wouldn't be able to make work. Whether you are embracing a true mountain climbing expedition, hitting a long backpacking trail that goes through some mountain passes, or otherwise exploring areas where ice and snow could make the footing questionable – you want to make sure you have high quality crampons to make sure your footing stays solid even when the trail gets dicey!
There are several different types of attachable crampons out there, and by understanding how they all work you will have a better sense merely by looking at the design what their primary use is and adjust your search expectations accordingly.
Make sure to do your research, know what type of crampons or snow grips that you really need, and with that knowledge you'll be able to take a look at an in-depth best ice crampon list like the one on this page and buy with confidence knowing that you have a pair that is going to work for you and your specific needs!
Some Final Thoughts
One of the most important things you can do is find a local steep park hill – a small steep area where you can practice using these properly and getting used to them on snow and slick ice. While this is generally good advice with any important piece of outdoor equipment, it is doubly so when you will be using equipment in situations where proper use could literally be the difference between life and death.
Great short video on fitting & using crampons on your hiking boots