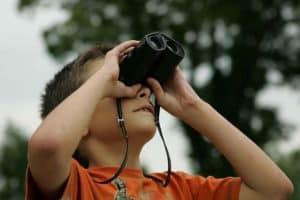 When I was a young boy I remember every year during hunting season the binoculars would come out, and for a five or six year old boy in the early eighties, there was little that was more exciting than having a look through those and seeing the nearly mile away woods around the nearby creek come in so clearly.
Sometimes even with deer peeking out where I could see them, or the forms of hunters covering that area. While there weren't any compact binoculars in our house growing up, those seem exactly like the type of weight cutting gift Dad would have loved while walking those miles during hunting season.
That isn't to say that compact binoculars are just for hunters. While they are indeed a very useful piece of equipment for hunting, there are many great uses for these from being part of a bug out bag or emergency survival kit to bird watching, there are many different times where a good reliable pair of these binoculars can come in handy.
What Should You Look for?
The exact model of mini compact binoculars that meet your needs is going to differ based on a variety of factors that include what exactly you're using them for. The best ones for hunting or bird watching might be slightly different, and the extent of weight you're looking to save also plays a major role. Some of these are relatively smaller than their full-sized hunting binocular counterparts while others are clearly designed with small and lightweight in mind.
Look over online reviews from reliable pages (like this one), understand that some are better for hunting while others are better for bird watching, and decide on which pair is the best match for you and your particular budget.
Wingspan Optics Spectator 8X32 Compact Binoculars
Designed with bird watching in mind, the Wingspan Optics company introduces their Spectator line of compact binoculars (8×32). Weighing less than a single pound and sporting the very reasonable dimensions of 1.75 x 4.5 x 4.5 inches for size.
While these are designed with bird watchers in mind, obviously that doesn't mean they can't be used for other things like hiking, concerts, or making those nose bleed seats at your favorite sporting event a little bit more palatable, this is an incredible pair of lightweight binoculars and there's a reason they are consistently one of the highest rated pairs you'll find online. Considering they're also one of the most reviewed pairs, that becomes doubly impressive.
These pocket sized binoculars offer both incredible detail as well as a wide view. Good for seeing up to 1,000 yards away and with a field view of 356 feet, it is really hard for any other compact binocular to compete with what Wingspan's Spectator has to offer.
Heavy magnification means you can spot details that are just stunning even from a long distance. From dew drops on the weeds of a field to every detail on a bird or birds that make it into your field of vision, you won't be disappointed with the view.
These are ergonomically designed with a non-slip grip, so no matter what the weather or if you're wearing gloves or going bare handed, you will be able to watch the distance for hours while remaining comfortable.
Absolutely deserving of the #1 spot on our list of best mini binoculars and that's even in a crowded field of excellent choices.

Aurosports 10×25 Folding High Powered Binoculars
One of the highest rated models out there, the folding high powered compact binoculars from Aurosports are an outstanding option that will work great for hunters, bird watchers, or just general outdoor enthusiasts. The 10×25 binoculars are aesthetically sleek and great looking, lightweight, and extremely compact.
One of the things that sets these Aurosports binoculars apart is that they have low light night vision – it's not the special forces night vision when it's completely dark but it offers a lot of clarity when the light is at low level. Add in a large field of view and incredible detail up to 1000 yards out and it's not hard to see why these are so popular.
These mini binoculars come with fully multi-coated lenses, are waterproof, and built to be anti-slip so they are easy to grab and hold onto. Perfect for bird watching or any type of distance viewing that requires a strong attention to details.
Offering a field of view of 362 feet up to 1000 yards away, these binoculars are great for following a golf ball on the course, seeing amazing sights while hiking, or doing anything you would want a fully functional pair of regular premium binoculars for.
These also come with a portable bag and cleaning cloth.

Bushnell Compact Roof Prism Binoculars (Model #138005)
Bushnell is a name that is well recognized among outdoor enthusiasts, and it's not hard to see why. With a magnification * objective setup of 8 x 25mm you get to enjoy bright, clear viewing even from a distance.
The multi-coated optics allow for a truly excellent transmission of light which means a clear picture. In addition to all of this, these binoculars have a sealed O-ring which helps to make them 100% waterproof.
The rubber armor on these Bushnell mini binoculars are non-slip, making it easy to have a firm grip on your binoculars at all times.
Easy to hold, easy to use, and designed to give a clear sight while preventing any fogging of the lenses, these are a great option for binoculars that give you the full benefit of having them while cutting down on weight. A large center focus knob makes it easy to focus in or focus back again, depending on your specific needs at any given time.
A limited lifetime warranty helps guarantee your purchase and provides solid protection on your purchase.

SUNCORE Folding Pocket Binoculars
Another outstanding option when it comes to small portable binoculars, these folding pocket binoculars were designed with the frequent off the beaten path traveler in mind and live up to those needs! These travel binoculars are small, easy to carry, easy to store, and yet provide all the clear and precise distance viewing you could ask for!
Registered as having 10×22 magnification and is perfect for sightseeing, distance focus, and even bird watching. These binoculars use very high quality optics and are lightweight, handy, and anti-glare to keep viewing as clear as possible.
A well placed center knob not only allows for easy adjustments and focusing, but is positioned in such a way that you can easily shift it with your fingers while still looking through the lenses – even if you have relatively small hands.
A relative newcomer on this list, there's a lot to like about these SUNCORE travel folding binoculars and what they bring to the table. Clear and sharp images that you can enjoy – that's what they promise.
These binoculars come with protective lens covers, a soft carrying case, as well as a user manual. A two year warranty covers any quality issues and their customer service response via email is fast and impressive. Definitely a company (and a pair of small travel sized binoculars) to keep track of.

HUTACT Compact Binoculars for Bird Watching
Weighing just a touch over a pound, HUTACT's contribution to the field of small lightweight binocular options might be a few ounces heavier than some of the other options on this list, but it is a very well designed product that is ideal for bird watching, offering the ability to enjoy an impressive 303 foot width for your visual field with clear sight up to an impressive 1000 yards away.
The green glaze over the lenses helps drastically reduce glare, and the HUTACT's design makes it easier to see distant natural scenery and wildlife more clearly, making them ideal for nature lovers and bird watchers.
The ability to keep focusing in at a high rate means you can adjust as needed to get the perfect view and these high quality optical lenses allow you to more easily follow moving objects, as well.
Throw in the fact that these binoculars are waterproof, dust proof, and come with a limited warranty and it isn't hard to see why this company is winning more outdoor fans all the time. The binoculars also come with a comfortable carry strap for easy transportation.

G4Free 12×25 Waterproof Binoculars
G4Free offers some pretty impressive binoculars that are very worthy of being on this list. These relatively lightweight and portable field binoculars are high powered, reliable, and built to stand up to the most common issues that will come from frequent outdoor use.
These green-lensed high powered field glasses have a strong reputation for strong 12X magnification, the ability to see in dim light, and the compact design that makes it easy to carry and transport these, or to have a solid grip even in slightly cold or rainy weather. That's nothing to sneeze at.
Boasting both XMC Technology and BAK4 prism, these lightweight binoculars are good in weak light conditions and the fact they are waterproof is another positive bonus. Good for kids or adults, these lightweight but effective options are great for the full array of classic outdoor activities.
Add in a top notch cleaning cloth, carrying pouch, and carrying strap and it is easy to see why this established style is so popular. This is a very solid pair of bird watching binoculars.

AVANTEK Compact Binoculars (8X22)
There are many great compact binoculars out there, and AVANTEK is a name not as many people have heard of yet, but they are definitely winning over some outdoorsmen with their take on compact 8X22 binoculars for both kids and adults. These are high powered, portable, and waterproof meaning they are designed to hold up in real world conditions.
Offering 8 times magnification and an especially impressively reported 131 meters (429 feet) field of view, the clear images that this piece of fine outdoor equipment provides is sure to get plenty of positive attention and continue to grow a solid following.
Multi-coated optics allow for better light to come through, clear viewing, and easy central adjustment means more control. In fact, the way the adjustment is set up even allows you to to compensate for different eye strength between your two eyes, bringing it together so you can still get a clear view all from a pair of lightweight binoculars that will easily fit right into your jacket pocket.
These are also relatively inexpensive compared to many other options on this list while still providing the top notch vision enhancement you want.

Bushnell Powerview Compact Folding Roof Prism Binocular
Another entry by Bushnell, this goes to show their dedication to providing outstanding equipment options and the Powerview compact folding binoculars have earned their #9 spot on this list. Available in three different color designs: camo, "computer" (black-silver type blend), or black, these compact binoculars bring a lot to the table to break into our best of list.
These Bushnell compact binoculars offer quality HD clarity because of top of the line optics, are extremely well designed and made, and have the durability to last over the test of time. When quality design and materials meets quality aesthetics you get the combination that Bushnell offers with these folding binoculars.
With a 378 foot field of vision at 1000 yards, you get the ability to see a whole lot of detail from these binoculars which are mini in size and not in delivery. You will be happy with the results these premium lightweight binoculars provide.
There are also various models that are larger and less compact that can deliver even more sight but keep in mind as they get bigger you will then need to deal with extra weight and inconvenience of packing and moving.
Thousands of positive reviews can't be wrong: these are a great pair of classic compact binoculars.

What Are Compact Binoculars Good For?
While having a pair of binoculars on a long range hike, day hike, or other outdoor excursion can be enjoyable simply for the sake of being able to really catch that deer in the distance or see a hawk soaring lazily overhead, there are many good reasons to carry around a pair of these lightweight small binoculars.
Many of the premium compact versions are very comparable to full sized binoculars, especially older versions or brands. While there are certainly full sized binoculars that have more of a range, they tend to be much more expensive as well as heavier to carry around and bigger so it's harder to pack and transport.
Even when these folding binoculars are advertised for one purpose such as "bird watching binoculars" or "portable hunting binoculars," they serve the same basic function meaning they can be used for a wide array of outdoor activities.
Just a small sample includes…
Astronomy
Bird Watching
Hunting
Survival / Bug Out Bag
Viewing wildlife
Watching concerts or shows from a distance
Compact Binoculars FAQ
Q: What's the advantage of compact binoculars over a regular pair?
A: There are a few basic ones. Generally speaking compact binoculars not only take up less space, but they often are much lighter, as well. This makes them easier to pack or carry throughout the day, and they're easier to use with one hand than a heavy pair of conventional binoculars.
Q: What are compact binoculars useful for?
A: Any time you want to see a long distance to scan the area. A short list of common practices include scouting out land, bird watching, hunting, or even astronomy/star gazing.
Q: What does the "AxB" magnification factor mean?
A: This is the most common setup to describe how magnification with binoculars of any kind works, with A referring to how many times closer something appears (so overall magnification strength) and the second number referring to the lens size which can indicate how much light gets in, the width of view, etc.
Q: Is there really a difference between compact binocular models?
A: The answer to this is an overwhelming yes. The clarity of the view, ability to see in dim light, quality of materials, and strength of magnification all go into just how good a particular brand or model is and there can be some pretty impressive differences, especially when all these little things are added together.
Q: What's the difference between regular and compact models?
A: This will vary from brand to brand but in general terms, compact models are smaller, lighter, and are going to be better for casual use. The full sized models will be more expensive and often do have a larger magnification, but they are also bulkier and aren't always the best choice for casual use.
Q: Can compact binoculars be used for astronomy?
A: Of course. Now although they will be far more effective than the naked eye, but the best binoculars for astronomy are going to be heavy duty with a tripod setup.
Getting the Right Pair for You
The old saying goes that one man's trash is another man's treasure, but things don't need to be nearly this extreme. There are an incredible number of absolutely outstanding pairs of compact binoculars out there, and doing a little bit of research, getting some word of mouth recommendations from outdoor enthusiasts, and figuring out what you need them for will help you to go through the many fantastic options that exist out there and find the one that is truly right for you.
Buying Binoculars Video Guide