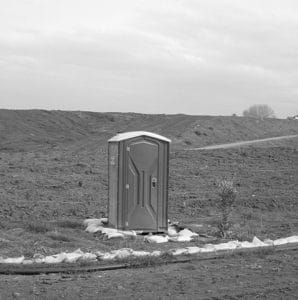 While outdoor camping toilets is a topic that isn't going to apply to a good number of outdoor enthusiasts, there are some of us who will occasionally be exploring some especially rustic areas and need to think about having a camping toilet as a genuine potential issue.
Some people will only camp in RVs (heathens – no Jon, I won't be nicer to RV only campers, I stand by mild outdoorsman slander), while others are open to tent camping but only want to pick out camp sites where there are some modern amenities available.
Then there are other situations like major through hikes or truly wild pieces of land where there are no facilities of note. In those situation you need to be prepared with the right gear, knowledge, and experience to take care of business the right way each and every single time. There are several options when it comes to going to the bathroom (especially #2) out in the wild, and the right option will depend a lot on your specific situation. There's no shortage of portable camping toilets out there, and these can make a big difference when you're camping at a rustic campsite where you need to set up your own bathroom or latrine, or even work sites that are out there in the wild or away from civilized areas (maybe on your land, maybe elsewhere).
While this isn't a topic a lot of people like to think about, it's an extremely important and practical matter that must be tackled if you want to camp, hike, or work out in the wilds with any type of comfort. Being prepared makes all the difference, and while various outdoor situations might be a little different from one another, you'll see the full variety of options here to cover all of your natural digestive waste disposal needs.
Top Camping Toilets
The ideal situation is to have a good camping toilet with biodegradable camping toilet paper, a pop up privacy tent, and the all-important hand sanitizer. These are outstanding options and while there are many, many more out there to choose from (some of them not bad at all) this short list goes over the ones we find to be our choice for the best camping toilets currently out there.
Reliance Products Luggable Loo
While there are some models of portable toilets that might seem better constructed or put together than the Luggable Loo this gets the highest grade for a camping toilet from us (and from many reviewers) for an obvious reason: it's simple and effective. The idea here isn't rocket science but it's a set up that allows for the easy ability to do your business, make sure it's all caught in a thick scent killing plastic waste disposal bag, and that you can transport the toilet in and out easily without digging a hole or leaving behind more than just a trace.
Measuring 13.5 inches wide and 13 inches in height, this lightweight (only 3 lbs) portable camping toilet is easy to carry out to any site, is completely compatible with the standard camping toilet waste disposal bags like the double doodie bags. They are economical, can be used for camping and hunting excursions, and have even been used by some people with basic or rusted campers.
This combination of benefits is part of the reason that this particular camping toilet is such a popular choice. It works well, is inexpensive, and fully functional for a variety of situations. This isn't the fanciest set up by any stretch, but it is high quality and well designed and when you're figuring out a practical way to deal with bathroom issues in places that don't have convenient options, this is an absolutely outstanding choice.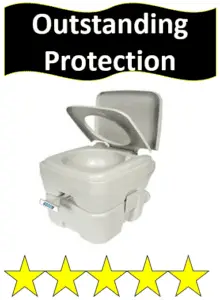 Camco 5.3 Gallon Portable Toilet
Camco's main portable toilet is most famous in its basic 5.3 gallon standard model but there are actually several different styles and options available. Coming in both a standard 5.3 gallon size as well as a smaller and more compact 2.6 gallon size. The style also comes in standard or premium for both sizes meaning that there are plenty of options available for travelers and outdoor enthusiasts looking at their options when it comes to portable traveling toilets.
The holding tank is detachable from the top toilet section, and the total seat section is 13.75 inches wide to provide plenty of support when it's time to do your business. Measuring out a touch over 16 inches in height, the depth is a full 16 inches, as well. This is one of the most popular camping toilet models that is available, and affordable to boot. This setup does way 11.5 lbs empty, so it is a little bit heavier than several of the more basic models but is still light enough that it shouldn't cause any major problems.
This is designed with travel in mind and as an emergency option for RVs, boats, and other vehicles but it has found a niche with campers who love it as a viable option at rustic campsites or for the outdoor vehicle of their choice.

ER Emergency Portable Snap-on Toilet Seat w/ Lid
This isn't a full sized camping toilet but is perhaps the most important replacement part that you can grab in case of an emergency. This is specifically designed for the ultra popular Luggable Loo camping toilet manufactured by Reliance Products.
This replacement snap on toilet seat can replace a missing or damaged seat on the original product.
While it is specifically designed for the Reliance Luggable Loo, this portable camping toilet lid can be applied to most 5 gallon buckets to create a similar effect since the highest rated portable toilet for camping on this list is basically in a 5 gallon bucket size.
The replacement lid is inexpensive, designed to fit perfectly, and it definitely makes the process much more comfortable. Highly rated by individuals who have used this both as a true replacement as well as improvising to add this to a normal equivalent sized bucket in order to create the same sized camping toilet for rustic campsites and other outdoor work environments where there is no practical option for disposing of waste or otherwise digging a latrine hole or packing it out.

PARTYSAVING New Travel Outdoor Portable Toilet
Whether you need a portable outdoor toilet for camping, boating, or other outdoor activities, the 2.6 gallon and 5.3 gallon options from PARTYSAVING are high quality options that are noted for their excellent construction and functionality. Made from high density polyethylene, these are designed to last and have separated water reservoir versus the waste holding unit.
While this isn't going to be as practical in some situations, for a rustic campsite that is being used for just a weekend for a limited number of campers, this can be an ideal solution in addition to offering great emergency or backup bathroom options if you are traveling via camper, RV, or even have an option below deck on a boat if you need one for those just in case moments.
These are specifically designed to hold up for constant use for individuals up to 300 pounds and while there are several reviews from larger individuals saying it has still worked for them, the warranty and manufacturing coverage only goes up to 300 lbs total.
These are flushable and can be flushed out for easier cleaning, as well. Use these with care and only in the right circumstances so you're not leaving a trace behind, but this makes for a great option when it comes to highly rated and regarded camping toilets.

Cleanwaste Go Anywhere Portable Toilet
This is an extremely well constructed and designed camping toilet. In fact, we discussed having this as the highest rated one because of the extra attention paid to solid construction and design, but but it a little big lower because while many of the other models on this list have interchangeable bags or pieces, the Cleanwaste toilet system is just that: a system that works best with all the proper items and parts on hand.
This camping toilet can be set up in mere seconds. It packs up into suitcase form for easy packing and movement, while the three leg design gives ultimate stability to the platform while you're doing your business – and stability is definitely something that's really important when you find yourself in that situation. In fact, this is the strongest of the portable toilets as far as tested weight with it working effectively for users up to 500 lbs.
The design is set up to collect the waste effectively and make cleaning up as painless a process as possible and no chemicals are added the way you may have to deal with when using a conventional RV toilet. The reviews have been overwhelmingly positive although there are some minor irritations with having to buy specifically designed waste bags, waste treatment, and if you stay on brand, their privacy tent is far more expensive than many of the pop up privacy tents that we encourage our readers to use in our review article.
However if you're looking for top of the line design and construction, it's hard to argue with what Cleanwaste brings to the table.
Don't forget these Cleanwaste products that go with this portable toilet set up to make sure you are always properly prepared.




Best Choice Products Outdoor Portable Toilet
You're just asking for close inspection when you name your brand "best choice," and while we might argue if it is the single best overall choice among all the camping toilet options out there or on this list, it certainly holds up as far as being a high enough quality and good enough design to make our list of the top rated camping toilets currently available to the general public.
Weighing right about 10 pounds empty, this portable toilet is clean, designed to cut down on odors, and convenient to use. Designed for camping in rustic areas without facilities, as a backup for outdoor camping or experiences, as well as road trip travel, this is a great gift that allows outdoor adventure enthusiasts and travelers to enjoy their travels and camping options without having to worry about digging the perfect cathole or latrine.
There is both a waste tank as well as a water tank and the overall design is put together to allow for optimized easy cleaning. Able to handle 5 gallons, this is an excellent addition to the list as it has even a flush set up that allows for easy cleaning. The tanks are heavily sealed to prevent leaks and the combination of sturdy construction and quality materials this can easily handle up to 440 lbs of weight.
The one major point that does come up is the importance of using the bio blue deodorizing agent especially when emptying the portable toilet to dispose of the waste water to keep the smell in check. This is a small bit of maintenance to pay in order to have a comfortable experience while traveling, especially when the issue of doing your business comes up.

Hassock Portable Self-Contained Toilet
These professionally designed portable camping toilets are lightweight, well built, and come with one eco-fresh packet right off the bat to help kill the odors that are going to accumulate with any portable toilet that is used for its intended purpose. The Hassock is made by Reliant Products, who has several other products that come up on this and related lists.
The Hassock itself has an extremely unique design with a removable inner bucket that is surrounded by a hard outer bucket which also helps give support to the contoured seat on the inner bucket that gives a little bit additional comfort when you have to arrange yourself to do your business.
With 14 x 14.7 x 14.7 inch measurements this design is unique, lightweight (at only 5 lbs), and when used with an appropriate odor killing waste bag you will be surprised just how effective and easy this model can be.
Pro tip from several reviews: add a small line of kitty litter at the bottom of the bag and finish a day putting a little bit over the top to further reduce the smell and keep it contained even as you go back for multiple uses. This is definitely a step worth looking at to be able to keep your toilet near camp without creating a smell you don't want while cooking meals at the campsite or laying down to rest.
Add in one of our recommended pop up privacy tents and you're all set to go!

Reliance Products Fold 45 Portable Toilet
The Fold 45 Reliance Portable Camping Toilet is a basic outdoor camping toilet model that has gained some fans because of its focus on pure functionality. The design of these allows for some comfort and use with a good cathole, which some people are looking for as squatting down fully isn't an option based on your back or knees. This can also be used on its own with an attached waste disposal bag, giving it a simple versatility that gives it enough to round out this list.
When fully folded up this is only five inches thick making it extremely compact and easy to transport. Able to handle up to 300 pounds, this portable camping toilet seat is designed to be fully compatible with the standard size Double Doodie bags that are the most popular brand to use with camping toilets. There is a full 5 year manufacturer's warranty on this lightweight option that weighs a mere 4.5 lbs.
This isn't the highest end model by any stretch but it is strong, lightweight, and functional to help you get the job done and that's what really matters. This rounds up our top list of options and especially for short term campouts, this will work just fine!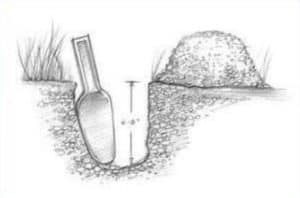 Digging Weekend Latrine
If you are in a situation where you're digging a latrine for an entire weekend, or even an extended backcountry hiking trip that is taking you from one nightly wild campsite to another, you will want to make sure you have a top rated camping trowel to dig your latrine hole (cathole) as well as fully biodegradable camping toilet paper. This allows you to properly squat and do your business, clean up, and fully bury the waste in the hole (cat holes can generally be relatively shallow while a multi-use latrine will require deeper digging for multiple uses – you should still but a thin layer of dirt to cover each use.
Also make sure that you are always conscious of how full any latrine hole is. If you're not going to use one of our best camping toilets on this list (and in some situations it isn't practical: see thru hiking) then you want to make sure you at least have the right equipment to dig a proper cat hole or latrine and clean yourself afterwards.
A little bit of preparation goes a long way, and this is one of those things you definitely need to be prepared for ahead of time.
Biodegradable Camping Toilet Paper
There are a few ways to deal with toilet paper in camping situations, but it is important to understand that there can be a huge difference even between the various types of biodegradable toilet paper out there, and different types make a big difference when it comes to what works best for each situation.
RV toilet paper, normal biodegradable toilet paper, and camping toilet paper can be similar yet all a little bit different, and one is not necessarily interchangeable for another. While you always want to know what your option are, don't just assume that one is interchangeable for another. Do a little bit of research to match the right type of toilet paper with your specific situation.
Digging Catholes
If you are going on a long distance hike throughout the wilderness like a thru hike of the AT, CDT, or PCT, or you may be on a long day hike and just have that moment where you need to be able to get off trail and do your business. In these situations chances are that you're not going to be lugging a portable camping toilet with you and in all honesty, it is probably completely impractical, as well.
In these situations you need to know how to dig a cat hole whenever you get off trail far enough to do your business. This means carrying around a camping trowel, having biodegradable toilet paper on hand, and hand sanitizer to clean your hands after the fact. Having the right tools to dig a good cat hole is important to make sure everything is disposed of properly. This is not only important for you and properly setting up your camp but also minimizing the impact of your presence in that area of nature.
One of the most unfortunate truths is that all thru hikers have had an experience at some point with "toilet paper blooms" and that's never a nice thing. There are many things you just don't want to experience and having your foot, shoe, or hand suddenly covered in shit is pretty high up on the list. Get a proper distance off trail, dig a proper sized hole, and fill it in and cover it.
You wouldn't want to be the person who discovers someone else's waste, don't do your business by the trail or barely cover it with a rock.
Other Related Portable Outdoor Bathroom Products
There are multiple different products that you're really going to want if you are heading towards a rustic campsite, and chances are if you're looking at portable camping toilets you are going to want to make sure you have a variety of other items, as well. Biodegradable toilet paper is a must and there are several options here. This is designed to break down very quickly whether buried underground, used in a latrine, or used with an RV.
In addition to this you are going to want to make sure you have enough scent proof garbage bags. Ideally you should get the ones that are designed specifically to be used with camping toilets. There are a variety of companies that produce this product including Reliance, who manufactures some of the most popular portable camping toilets, as well.


Unbreakable Rules of Creating Outdoor Toilets
There are certain rules that you simply don't break when dealing with these situations. While we covered a few of these in our article about the best outdoor trowels, these types outdoor rules are just important for everyone to understand so we'll repeat them again here. You never know when someone is stumbling upon these for the first time so we are going to put them down again.
Never have your toilet by water. This goes whether you have a portable toilet (with or without privacy tent though I know which one I prefer), but you shouldn't be within 100 feet of any water source or main trail. Depending on the area, many outdoor enthusiasts double that to 200 feet to be on the safe side, and this is the rule I try to live by though if you're in heavy rattlesnake country with tons of underbrush…100 works quite well and quite often in that case.
Have your toilet away from camp. The reasons for that should be plenty obvious. You not only want to deal with the unpleasant smell, or doing your business right there with others around (even with a privacy tent it's just not an ideal situation), but there is a legitimate health issue that arises from having waste nearby. Keep it away from water, and keep it away from camp.
Bury it fully
If you are using a latrine hole or cathole as opposed to a portable toilet, or deciding to dig a hole to empty your portable toilet before moving on to a new site, it's important you watch how close to the top of the ground the waste is getting. You don't want it near the surface. Other hikers, campers, or anyone passing through doesn't want to deal with your waste, nor should they. In addition, keeping it deeper in the ground where it can work to fertilize and decompose without bringing threat of disease to the surface is just common sense.
Make sure there's enough room left to bury everything thoroughly – your waste shouldn't be inches from the surface, barely covered by a thin layer of dirt.
Ideally pack in, pack out
While there are situations where packing it in and out isn't realistic if you're using a portable camping toilet as opposed to digging catholes or latrine holes, then you need to pack the waste out with you. Don't leave it, don't dump it, go with the old "leave no trace behind" rules. There's a reason camping toilets all come with scent proof waste bags or are designed to be used with tough scent proof waste bags as a design.
I know it's unpleasant, but don't be dick. Pack out the waste and dispose of it once you're back in civilization at a place where it's possible. This is especially important in places where others will be. You don't want your foot to land in soft soil or you don't want to find someone's waste while pounding in a tent stake. Practice things the right way and you can rest easier knowing you've done things the right way.
Don't forget these!


In Conclusion
There are many different related items to handling creating your own outdoor toilet whether it is a cathole for a one time go when you are hiking or needing to set up a more full time latrine or camping toilet for a weekend or week long use. This can be the case when you are camping way out in the wild, in a rustic campsite, or hiking and camping in your own private land well away from any facilities. Understand what your basic needs are going to be and make sure you're prepared.
Thinking about going #2 might not be high one the list when it comes to working or enjoying the great outdoors (understandable) but taking a little bit of time to understand what gear is appropriate for your situation and prepare just makes sense and when you're out in the wild and need to take care of business, you'll be glad you did.
A little cheesy, but decent outdoor bathroom video