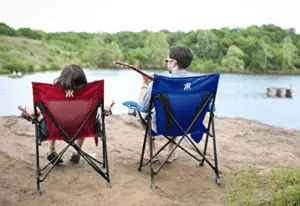 There's no question that comfort is a pretty big factor for many people when it comes to how much they enjoy the great outdoors. Whether you're looking at a camping chair to give the legs a rest after a day of hiking, some extra seating for the tailgating before a college football game, or as a natural piece of gear for a weekend family camping trip to the lake, there are plenty of great camping chairs available to meet every single one of your needs!
If you find yourself shopping for the best camping chairs, it can get a bit overwhelming. There are so many options out there (even good portable folding chair options) but you need one that specifically fits your needs. Do you need extra back support? An extra sturdy frame? A bit of shade because you're sun-sensitive?
There are great options for each of these and we take pride in not only reviewing the best of the best but also
Here are some of the best camping chairs on the market today.
Best Camping Chairs Reviewed
The Best Overall Camping Chair: Kijaro Dual Lock Folding Chair
The Kijaro folding chair is our preferred choice for the best overall camping chair on the market. The product is comfortable, lightweight, attractive, and comes with good ventilation. In fact, it is a steal at $35 compared to its competitor products.
The versatility of the chair is another advantage. You can use it for almost all outdoor events such as hanging out on the beach, camping, tailgating, and a host of other events.
The chair is positioned in an upright but a relaxed position – which will help you read a book, have a nap, or just relax on the chair. Many customers are happy with the extra support provided by the chair.
In fact, the taut fabric and the spacious armrests of the chair will offer comfortable seating all day long.
The ventilated back mesh panel helps you stay for long hours in the sun without having the shirt soaked with sweat. It increases the comfort even when you are outdoors in the hot sun. The chair is quite portable with its lightweight design as well as the built-in carrying strap. Increased portability makes the chair more user-friendly compared to its competitor products on the market.
The seat of the chair is made of high-quality 600 x 300D ripstop polyester. It can carry up to 300 pounds without any issue. Assembling the chair is quite easy. That is why you need to invest in the Kijaro Dual Lock Folding Chair right now.

The Best Ergonomic Camping Chair: STRONGBACK Elite Folding Camping Chair
The Strongback Elite Heavy folding camping chair comes with a durable construction. In fact, the product weighs 12 pounds with a capacity of up to 300 pounds. There are a patented lumbar supportive design and a spacious seat in order to help align your body posture and ease tension in the back and neck.
This camping chair will support your back while bringing relief to the spine area. You can easily set-up the chair within a few minutes of time. The chair comes with a carrying case similar to a backpack. This makes it easier to carry the chair wherever you want to take it. The heavy-duty 600D tear-resistant polyester fabric and powder-coated steel frame enhance the durability of the product.
There is also a beverage holder to keep your drink handy while you relax.
The strong frame and excellent lumbar support are the salient features of this product. It offers great comfort for any outdoor event. At 12 pounds, the chair is a little bit heavy for carrying in your backpack. Make sure that you invest in the Strongback Elite Heavy folding camping chair right now if you are shopping for the best ergonomic camping chair on the market.

The Best Classic Camping Chair: ALPS Mountaineering King Kong Chair
This is a monster of a chair. In fact, if you are shopping for the best classic camping chair on the market, the ALPS Mountaineering King Kong Chair is the best choice for you. It comes with a sturdy and wide steel frame and a comfortable padded seat. The high-quality construction of the product is the main feature of it.
In fact, the armrests are adjustable, comfortable, and sturdy. It has great storage space with two deep side pockets, two cup holders, and a mesh pocket at the head of the chair.
The disadvantages of the product are its lack of breathability and bulkiness. The King Kong is one of the best camping chairs out there when it comes to comfort and support. The chair is one of the most durable on the market today.
The seat is made from the high-quality 600D polyester material. It is easier to set-up compared to most of its competitor products on the market. Make sure that you buy the ALPS Mountaineering King Kong Chair right now.

The Best Budget Camping Chair: Quik Shade Canopy Adjustable Folding Camp Chair
If you are shopping for the best budget camping chair on the market, you shouldn't look further than the Quik Shade Canopy Adjustable Folding Camp Chair. This product makes camping a fun and memorable event for your whole family. The manufacturer of this product has been in business for more than 20 years. Hence, you can expect a high-quality product from such a manufacturer.
The chair is easy to set-up and fold. You can carry the chair without any problem. It has a maximum weight capacity of 225 pounds. The shoulder strap offers ergonomic support. In fact, the chair could be used with or without the canopy depending on the weather and time of day. The chair is water, moisture, and stain-resistant. The canopy can be tilted, lowered, and raised as per your preference.
This portable folding chair has a sturdy construction with high-quality 600D polyester fabric material and a powder-coated finish. That is why you need to buy the Quik Shade Canopy Adjustable Folding Camp Chair right now.

Honorable Mention: Timber Ridge Camping Chair
Whether you plan to relax on the beach, barbecue at the backyard, or go camping, the Timber Ridge Camping Chair is ideal for all these functions. The lightweight chair is easy to carry and store. The padded armrest provides added comfort and the foam-padded seat back offers great support on your body and who doesn't like a little bit of extra comfort whether camping or tailgating on game day?
The swivel cup holder helps store your drink, food, or books in a place that is easily accessible to you. This chair has a great reputation and does a great job of meeting most campers needs.
While it didn't earn any of the "Top X chair" categories we laid out, it appeared in second place quite often.
This is a solid ergonomic option, it's a good heavy duty chair, and it is a very good value, as well. That's a lot of positive feedback and this is going to appear on a lot of top 10 camping chair lists, as well. That's why you should invest in the Timber Ridge Camping Chair right now.

Camping Chair FAQ
Q: Are camping chairs good for the beach?
A: Generally speaking, yes. They aren't designed for a quick clean off so some people prefer regular folding chairs but camping chairs are designed for the rigors of camping and outdoor use and that makes them a viable option for the beach, as well. Just make sure to clean them well or you'll be finding random sand everywhere!
Q: Are camping chairs good for tailgating?
A: Absolutely! These chairs are built to be able to handle a bit of a beating and the same things that make these folding chairs great for camping makes them ideal for tailgating: portable, easy to stash, easy to clean, and plenty comfortable while around the grill or enjoying an ice cold brew!
Q: How should I store my camping chair?
A: Each chair should come with directions on the right way to store them safely. Generally speaking storage is easy. The far majority of camping chairs come with their own carrying and storage bags that can last for years when treated properly, and they can be stored on the side or vertically, as well.
In other words, they are versatile when it comes to storage and that means plenty of options.
Q: How do I clean my camping chair?
A: Generally you can just hose them off but then make sure to have them standing for a while in a place where they can dry. You don't want long term moisture exposure otherwise you may have to worry about mildew or mold.
Q: Where can I get the best deal on cheap portable camping chairs?
A: There are plenty of places to buy a great inexpensive camping chair. While various sporting goods stores, outdoor stores, second hand stores, and even garage sales or estate sales can be viable options, generally we find that the best selection, price, and options come from Amazon.
Q: Are camping chairs and folding chairs the same thing?
A: While some concepts are the same, a camping chair is going to be very different from folding chairs as they are specifically designed for outdoor use and to provide comfort and portability in addition to the simple sitting space function, as well.
In Conclusion
There's a lot to love about the great outdoors, and for those of us who want true comfort at a campsite and seeing the wild away from heavily traveled areas then you need to provide your own comfort. Having that little site that feels like home, and the ability to get off the legs/feet and rest outside of the tent is priceless and you don't want to find yourself in a position where you want or need this comfort and don't have it.
Good camping chairs that can put up with the short and long term challenges of what the great outdoors can throw at your are priceless and you don't want to take them for granted. If you go with one of the models in this article chances are you are going to be comfortable and happy. Isn't that also the most important thing?
So buy your favorite portable outdoor chair and enjoy!
Good Camp Chair Comparison Video