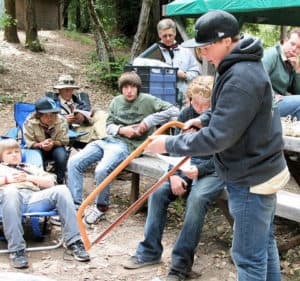 There are many types of outdoor saws out there, and this is doubly true when looking at the wide array of different work saws, camping saws, or even survival saw options that are out there. While a good hand chain saw can be an interesting addition to a bug out bag and a truly good portable folding saw can certainly be useful, as far as a great campsite tool for cutting massive amounts of wood, it really is hard to argue with a truly good bow saw.
These were how my brother and I learned to use a saw during our early days in Cub Scouts and later in Boy Scouts, and I vividly remember setting up a notch cut, then shifting for that sideways angle before cutting through. Whether a branch, flat firewood, or cutting through good log chunks, we became very familiar with what a good bow saw could do…and what a mediocre one couldn't.
While we used a standard bow saw that worked for slicing wood while camping, training up new Scouts on how to use a bow saw, or back in the Scoutmaster's shop as one of dozens upon dozens of wood working tools, I wouldn't realize just how many options there were until adulthood.
Bow saws can be incredible versatile, the style and construction of blade makes a huge difference when it comes to power, style, and functionality as a cutting tool. While the general design of the modern bow saw is pretty standard, there are slight variations and different design choices that actually adds and impressive amount of versatility making some of these idea for at home tools, others as survival bow saws, and others as versatile options that can be adjusted to do anything.
Read on to learn about our top picks.
Top Rated Bow Saws
There are a variety of different factors that go into how we judge the best overall bow saws. We are big fans of quality construction, top notch design, and being budget friendly (although that is a distant third compared to the first two). After all, how can any bow saw or any other outdoor tool for that matter, be worthy of a best of label if they don't meet all of those basic standards? That's why these are the main pillars we look at when grading out these saws and coming up with our overall top rated list.
Bow saws are great tools for hikers, bushcraft specialists,
Other important factors we consider includes (but isn't limited to):
How versatile is this model of bow saw?
Does this saw hold up to the rest of time?
Ease of getting replacement blades
Ease of switching out specialty blades
Reliability & warranty
Long standing history of quality
Whether you are looking for a quality survival saw or the type of solid tool that can work for countless Boy Scout campouts or something in between, our top seven choices feature every type of bow saw imaginable and will help you find the perfect one that meets your needs!
Bahco Bow Saw (Model 10-24-23)
No one should be surprised that a Bahco makes the top of any saw list, and just as they did with the folding knives they take our top spot for bow saws, as well. In fact Bahco shows up three times on this list, and although it was close their 10-24-23 model bow saw takes the top spot.
Lauded for the type of exceptional quality you would expect from the Bahco brand and this particular model is available with a nice comfortable ergonomic handle I know Jon and I would have appreciated back in our scouting days, as well as being able to be adjusted in 21 inch, 24 inch, and 30 inch sizes.
This Bahco bow saw is designed to be your top notch tool whether you are cutting dry wood or green wood, no matter what the environment or job setup. Whether pruning branches off trees, breaking down storm damage into usable fire wood, or getting some serious cutting and bushcraft work done in the woods, you can count on a Bahco saw to get it done.
Available 21, 24, and 30 inch blades based on the specific size of the saw that you purchase (or all three if you want the full array of wood cutting options and versatility) and featuring dry wood and green wood designs, there's a lot to truly love what Bahco bow saws have to offer.
The ergonomic handle has a special design that helps to protect your knuckles meaning you not only get to stay comfortable but your hand is protected, as well. The frames of these saws are lightweight but made from top notch steel that means they are also heavy duty, as well. These are easy to pack, easy to carry, and also hold up to the test of time.
Add in the solid pointed nose, triangular saw teeth, and high frequency hardening process to make the teeth stay sharper for longer and it is easy to see why they are so popular. The orange enamel paint protects from rust and other corrosion.
Replacement blades are easy to order, making this an easy and worthy choice for our number one bow saw for camping, survival, or around the yard work.


Agawa Canyon BOREAL21 Folding Bow Saw
The folding camp bow saw from Agawa Canyon is a really impressive take on the traditional bow saw and displays the easy setup and folding ability that makes it not only a great permanent tool but also an outstanding travel option – which also ups its usefulness when it comes to use as an item to pack in a bug out bag or use as a survival saw.
The BOREAL21 model from Agawa is one of the absolute best bow saws out there and although the versatility is absolutely undeniable, that's not the only reason it is near the top of the list. This is one of the best bow saws for camping, backpacking, bushcraft, survival training, hunting, or chores around the house. In other words, this Agawa bow saw hits the #2 spot on a wide array of merits and gives the top Bahco saw a serious run for its money.
This saw can go from closed to unfolded and opened in mere seconds. Fold it out in full, snap in position, and start sawing. The process really is that easy. The automatic blade tensioning means the saw is set to go right off the back. The aluminum frame is supported by a glass filled nylon handle where the blades are made from top notch stainless steel.
These lightweight saws are outstanding options that are a major favorite because of how easy they are to back down safely when not in use, the quality of the cut, and the fact that the unique 3 hinge trapezium shape of the frame allows for very large diameter cuts. A solid warranty covers the saw itself (but not the need for new blades).
A fantastic option for a camping or survival bow saw.


Bahco #9 All-Purpose Bow Saw
Well that didn't take long for Bahco to reappear on our list, did it? The #9 all-purpose design of bow saw is an incredibly well built saw that is built with a solid finger guard, a comfortable handle, and a solid design to make sure that you get a strong and efficient cut.
This is a fantastic bow saw that handles brush and small trees with no issue whatsoever and has proven itself again and again whether tackling post storm damage, using it as a main saw out in the woods during a bushcraft exercise (or long-term project), or as a pruning tool or survival saw. Bahco is known for reliability, and this saw doesn't disappoint.
This saw delivers big time when it comes to cutting deeply and cutting easily. This is a larger version that is set to use a 36 inch blade although there are a few smaller ones available like the 31 inch model, which is also a popular version. Not everyone can necessarily handle this sized saw but for those of us who can, this Bahco is just an absolutely outstanding option.
Many buyers have repeatedly talked about how amazing the Bahco saw cuts, easily taking care of jobs that many would consider beyond a conventional bow saw – and they might be right. These saws cut big time and the saw itself is going to hold up to even the most demanding of needs.
The only minor problem? In some cases the protective handle tends to fall off, though that is a very easy fix with a little bit of electrical tape. Otherwise it's hard to find any type of a complaint with these saws. As with any good bow saws you still want extra saw blades just in case.


Gerber Freescape Camp Saw
The Gerber Freescape camp saw is an outstanding option that makes it s way onto this list because it is an exceptionally built folding bow saw that is built with camping and survival in mind. The saw is easy to set up, folds down flat when it is time to pack away or close down for the day, and is lightweight and compact making it easy to pack, carry, and this also makes the Gerber Freescape ideal for survival or camping situations.
There aren't many bow saws that are a good fit for a bug out bag or break down enough to be practical to have as part of a survival kit or emergency gear, but the Gerber is one of the few that meets these criteria and then some. In addition, many bushcraft specialists appreciate the fact that this saw doesn't need any parts unscrewed or removed in order to properly break down, meaning you can't just lose a connecting screw or nut that then renders the saw moot.
A rubber molded grip gives your hand plenty of comfort and the design of the saw itself takes advantage of 4 pivot points to help cut larger branches (aka wood with higher diameter). This bow saw features a 12 inch blade, and any standard replacement blade of that size will do if a new blade is needed.
This is a saw with an outstanding design and a worthy add to this list.


Sven Saw Adjustable Camping Bow Saw
Sweden has a reputation for truly high quality manufacturing. While they might not be known for mass production, they are known for creating truly quality products. The Sven Saw lives up to that reputation of outstanding construction and is a top notch backpacking saw that is great for bushcraft specialists, wilderness survival situations, or even as a more permanent part of your garage tool set up.
The blade is made from tempered Swedish steel while the frame is a high quality and high strength aluminum. The triangular shape is perfect for cutting from a variety of angles and the saw's angle can be adjusted to adapt to whatever your specific cutting needs are at that moment.
This saw is easy to use, cuts amazingly well, and easy to fold up and back up for safe carrying or transport. This Sven Swedish folding saw also comes with a strap of leather that gives you more options for how to carry or store your saw.
Best of all, this is a heavy duty saw. It doesn't come with the issues many people expect from a folding saw, pocket saw, or anything labeled "emergency" or "survival." This is an outstanding bow saw that will hold up to consistent heavy duty use.


BAHCO 21-Inch Pointed Nose Bow Saw
Surprise, surprise – here is yet another fantastic offering from the Bahco company. The third of their bow saws to hit our top ten list (which is actually only 7 as of this writing since we couldn't find 10 models that passed our quality standards), the pointed nose bow saw from Bahco is an outstanding option when you're looking for a small, handy, but reliable bow saw for all around use whether pruning up trees around the property or getting some bushcraft work done back at camp.
The pointed nose design makes this a great model for when you have to deal with cramped areas where you need to make solid cuts in tight spaces. Good for pruning, roofing, bushcraft, and more, this saw is particularly good for dry wood and lumber as well as tight space cutting.
While it will work on green wood for long periods of time, it is worth noting that this particular saw isn't really built for that for the long-term so that could lead to some early wear from large amounts of use on that type of material.
This model of Bahco saw comes with an ergonomic handle for a solid no-slip grip that is comfortable on your fingers, hands, and wrists for ultimate comfort. This is an exceptional saw and especially if you're looking for one smaller sized bow saw around this size for around the house use or as a semi-permanent bushcamp tool then this is a truly outstanding option.


Truper Steel Handle Bow Saw
Available in three common sizes (21 inches, 24 inches, or 30 inches), the Truper bow saw will remind many of their first bow saw. Bright orange in color with a solid black handle that includes finger guard, these saws are handy for taking on larger branches and this tool is a must-have for many.
This bow saw is approved for tackling larger branches while the cam-lever tension system helps make sure the blade stays tight and in top cutting condition while you're working.
Truper saws aren't top of the line elite quality but they are very solidly made saws that can last many years as long as they are properly cleaned and oiled after each use. A little bit care goes a long way when it comes to getting the absolute most out of your Truper bow saws.
Pictured is the 21 inch blade, and this is a compact bow saw that will help you save on space but also offers some serious cutting power. Truper does offer a limited warranty and if you're looking for a budget friendly option, this is a solid choice for a bow saw you can still rely on.


Bow Saw Options: Camping Versus Survival
A great bow saw should always be a part of a handyman's tool collection, and doubly so for anyone who is avidly into the bushcraft arts. In many cases individuals will want to have more than one and will want several bow saws of varying shapes and sizes to meet all of their needs.
This list has shown the absolute best that are available out there, and whatever your specific needs you will find a saw on this list that meets your needs.
What makes a camping bow saw?
The first thing to understand is that these are general terms, so there's no hard and fast definition but a lot of times when we think of a good bow saw for camping it's one that is great for dry wood (green wood is a bonus, but if you're prepared like you're supposed to be for Scouts then you should have plenty of firewood packed up and ready here) and a steady non-folding option that works as well at camp as back at a wood shop.
These saws need to be very good for cutting through firewood of various lengths and diameters and stay sharp while the blades offer plenty of cutting power. The ideal saw can vary a bit depending on the type of wood you'll be cutting most often. You shouldn't need an angular saw as much, the traditional bow saw is often also ideal for camping, as well.
What makes a survival bow saw?
In our minds, the best bow saw designs for survival are going to be folding because they need to be versatile, easy to pack, and easy to carry. After all, it's not going to do much for you in a wilderness survival situation if you don't have it with you. The versatility and easy packing design of the elite folding bow saws are what make them the best option for survival, in our opinion.
When these can be easily added to a camping/hiking backpack, a bug out back, or a general survival kit then you know you're on the right track.
From tool shed and pruning bow saws to the good old fashioned camping bow saw to several folding survival bow saw options, our list gives plenty of options that should help you meet your sawing needs – whatever those might be.
Camping Bow Saws FAQ
Q: Who makes the best bow saws?
A: Overall it's hard to argue with Bahco. There's a reason they're 3 of our first 7 entries and while the exact model that works best will depend on your specific needs, but overall there's a reason that the Bahco brand name comes up with virtually every single type of saw. They're really top notch.
Q: What are bow saws generally used for?
A: Wide array of uses from cutting firewood to pruning trees to bushcraft. These are basic manual saws and among the most versatile type.
Q: Are bow saws illegal?
A: Not sure why this question comes up a lot, but no, they are not. These are very clearly tools and not weapons and are used for a wide variety of outdoor and workshop applications. If these saws were illegal there would be a lot less bushcraft, tree pruning, landscaping, and woodworking getting done.
Q: How are bow saws for woodworking different?
A: While normal bow saws are used for a variety of projects and woodworking cuts, there are specialty saws that are used for detailed woodworking that some artists use. These are more artisan tools and the people who use these versus other modern woodworking tools won't mistake one for the other. Every example we mention on this page are for general work, not specialty crafting or woodworking. Wrong blog for that.
Q: Where's the best place to buy a new bow saw?
A: We're huge fans of Amazon but if you feel like you need to feel each one before the buy then looking at stores like Home Depot are going to be just as good a choice as a camping or outdoors store.
Q: How easy is it to replace a dull or damaged saw blade?
A: Fairly easy. Wear happens over time and there's always the chance of running into something that damages the saw. You'll want to get familiar with your saw and you may need to order a replacement blade (or buy one or more in the right size from a local Home Depot), but this isn't hard to do. If your saw uses specialty blades you may have to order them directly from the company, but this is still a simple process.
Q: How large do bow saws get?
A: Well over 30 inches. Most companies have their largest ones at 36 inches.
Q: What's better: a bigger sized saw or a smaller one?
A: Depends on your specific needs. Size, shape, saw tooth design, and other factors make a huge difference when deciding on which of these specific saws are going to be best for your personal needs.
Q: How often do you need to replace blades?
A: Varies based on how often you sharpen the blades, use the saw, and run into problem cuts. When properly maintained and sharpened blades can last a very long time.
In Conclusion
Bow saws are surprisingly versatile tools and we are big fans. While the days of cutting firewood for Scout camp might be long gone, these are fantastic tools for bushcraft projects, for necessary trim up on property, and for a variety of other uses. We've shown you the best of the best here, including the best options for survival saws or camping saws, so take a look and buy with confidence knowing you're getting one that will work for you!
Great Video on Bow Saws as Bushcraft Tool

Additional Articles of Interest…