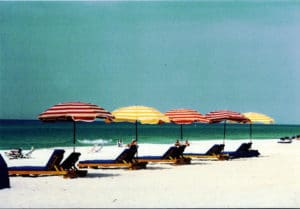 Do you have your beach umbrella ready for the dog days of summer? We're hitting that time of year again when it's a great time to hit the beach not matter what part of the country you're in and to enjoy the summer sun. There are few experiences more enjoyable for ringing in a season than hitting the beach and there's a reason these are often major vacation destinations. Warm water, beautiful sand, and plenty of active people enjoying the day – what's not to like?
That being said, you need to have solid sun and UV protection and that means having a proper shelter on hand. Whether you go with a high quality beach umbrella (like those from Sports Brella) or a beach tent, or even both, you have options when it comes to giving yourself shade that acts as crucial UV protection when you need it the most.
Top Rated Beach Umbrella Brands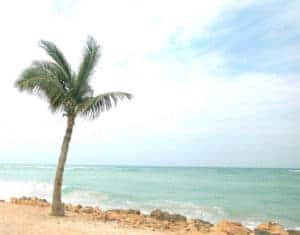 There are many different beach umbrellas out there, and it's worth noting that many of these brands have several similar or related designs or items. Sports Brella beach umbrellas, for example, come in five extremely similar variations that technically make them different models but in comparison to other beach umbrellas. That link above in fact goes to our specific article that only deals with the various options that come under the Sports Brella brand.
But for the purposes of this list they are going to get put under heading and if you decide that's the one for you – go ahead and dive deeper into the rabbit hole to get your review info! If you know anything about our blog posts, you know we offer plenty of information in our in-depth reviews!
While you don't need to keep yourself to the choices in this article, there's a reason each of these options have made our list of the top rated beach umbrellas out there, and you should certainly have no problem finding a high quality option to make your next beach outing just that much more special.
BeachBuB All-In-One Beach Umbrella System
The beachBuB beach umbrellas, featured and sold as an "all-in-one beach umbrella system," is one of the best options out there when it comes to a more conventional beach umbrella design, complete with a solid anchored base to create a large area of shade wherever you decide to claim a little bit of sand for you and those you're with. These are designed not only to provide a solid amount of shade even on the sunniest of beaches, but they are also portable anchored beach umbrellas that are designed to be easy to set up and hold up to a fairly stiff breeze.
These are wind tested up to a stead 35 mph wind, and the anchor system is designed to keep them in place and prevent the hazards that can result from cheaper models being picked up and blown up and down the beach. The BuBrella is approved by the American Lifeguard Association (ALA) which goes to show you just what level of quality this company has created with their version of the perfect beach umbrella.
Aside from looking good and providing excellent shade with an easy to set up anchor, this package includes the weighted base for anchoring, the umbrella itself, as well as an accessory kit so you have everything you need to set up and enjoy your time out on your favorite beach from day one.
Add in an impressive available three year protection plan and it's not hard to see why this dependable lightweight option has become so popular with so many beach dwellers and is at the top of our list for best options.

Sport-Brella Portable All-Weather and Sun Umbrella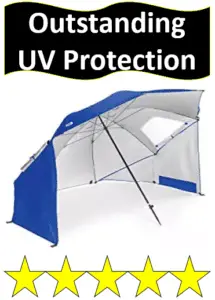 We're big fans of the many different designs of beach umbrellas that Sport-Brella brings to the table, and there's a reason our blog has an entire article dedicated to just the various options that particular brand has to offer. Coming in a variety of classic blue or red colors with a pleasant interior white, this is a close to the sand beach umbrella that works as an on the ground shelter providing a nice little area for you, your friends, family, or whomever else has decided to accompany you to the beach that day.
In fact this specific design we're highlighting is one of the highest rated with literally thousands of online reviews that give them 5 stars or 10 out of 10 or whatever the rating system for that individual review happens to be. Featuring a wide 8 foot canopy made from heavy duty polyester while the steel ribs are thin, light, but strong to give the entire umbrella shelter a firm structure once it is fully setup.
The design keeping it close to the ground means it works great as a basic shade shelter on the grass during Little League games, while watching the kids out in the park, or a variety of other similar situations where a little bit of portable shade is just what the doctor ordered. In some ways, these portable beach umbrellas are more like open faced beach tents than they are a more traditional stand umbrella, but many families find these preferable because of the added versatility that design brings.
While each specific type of Sport-Brella design might be a little bit different, this particular model is a full blown beach umbrella kit that has the full shade, 8 steel ground stakes to keep it secure, three 8 foot lengths tie-down cords, and a nice carry bag to make transporting everything as easy as possible.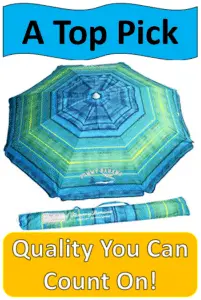 Tommy Bahama Sand Anchor 7 Ft Beach Umbrella
One of the best selling models on Amazon as of this writing, the most recent Tommy Bahama beach umbrella isn't just relying on its recognizable name brand but this is an exceptionally constructed seven foot beach umbrellas that includes a natural tilt and telescoping pole to give you maximum shade coverage on those days out on the white hot sand.
Coming in a wide variety of color options (although the colorful rainbow multi-color pattern seems to be one of the favorites), no matter what your personal taste you will be able to find a good looking umbrella that fits you and your outdoor philosophy.
This is a very unique and good looking beach umbrella that provides a wide array of aesthetic designs based on your tastes, and provides all the practical protection that you want during a long day out and about. These Tommy Bahama outdoor umbrellas include a special aluminum undercoating that is specifically designed to help reflect harmful UV rays away from you while also including a wind vent for stability during a solid breeze. Add in a reliable anchor and you don't have to worry about this one floating away because of a harsh breeze.
At only 4.2 lbs this is also one of the lightest heavy duty beach umbrellas currently on the market, but its design makes sure it remains steady and fully viable in any outdoor beach environment. This also comes with a lightweight carrying bag that matches the color of the umbrella itself, adding to the convenience of using it.

EasyGo Rainbow Beach Umbrella
The EasyGo rainbow beach umbrella does good things with this popular beach umbrella design, offering bright and vibrant rotation of colors that look fun and pleasant to help establish the emotional feel good setup for a fun day at the beach while also providing quality shade that can give your skin a break from the sun and offer a cool little bit of shade that effectively hides you from those powerful UV rays from the sun.
This umbrella has a heavy duty 7-foot diameter that is supported by solid and reliable fiberglass ribs. There is a one button tilt allowing for ridiculously easy adjustment so you can make sure you're getting the ideal level of shade in your area no matter what time of the day it is and where in the sky the sun is.
Easy to set up and easy to transport, this is one of the more popular rainbow umbrellas for frequent beach-goers. On the interior you'll notice a silver UPF protective coating that is rated as UPF 50+ which means a lot of great protection from the sun while the outside looks bright and celebratory.
The anchor makes it easy to secure, is surprisingly easy to set up properly, and can be transported easily as well. That type of convenience is hard to find and the overall quality of this umbrella makes it an easy choice for our list of best beach umbrellas to enjoy the sand this summer!

Impact Canopy Rainbow Beach Umbrella
There is that crowd that always believes "bigger is better" and when it comes to the amount of shade offered by a top rated beach umbrella, they might have a very good point! This rainbow beach umbrella by Impact Canopy looks to offer the most shade out there, jumping ahead with an 8 foot diameter that is supported by a rust resistant aluminum pole and special fiberglass support ribs that allow for such an impressive spread.
This is a heavy duty beach umbrella that not only looks good and can be solidly anchored into the sand but it also offers an impressive UPF 50+ protection from the sun's rays which is an estimated 98% blockage of UV rays. In other words, it's not just about the length and width of the shade but this top rated beach umbrella also keeps out the most harmful of the sun's rays at a very high and successful level.
These gorgeous and brightly colored umbrellas include excellent carry bags (with shoulder strap), sand anchor auger, and everything you need to transport to and from the beach and to get started as soon as you have the umbrella. What's the point if you have to look around for additional parts or pieces that should have come with it?
This is an exceptionally designed large beach umbrella and an outstanding choice if you are looking for a new portable beach umbrella for you and your family.

Beach Umbrella Accessories (Extras)
There aren't too many accessories that come with beach umbrellas but there are a few that are definitely worth taking a look at, depending on what your idea of an ideal beach setup is. Any half way decent beach umbrella is going to come with at least a basic auger and anchor, and generally a carrying bag for transportation from one place to another. The following three items are in order of what we generally see as going to very useful to possibly useful depending on what helps make your beach day experience as enjoyable as possible.
The Pole-R Bear Umbrella Hook
This is one of the best accessories to attach to a beach umbrella, in our opinion, and makes a lot of sense for easy hanging and open storage of all kinds of things. A good hook system like the one in Pole-R Bear is perfect to hang up a camera, towels, bags/plastic bags to hold random odds and ends, and a variety of other things.
This works with mesh bags, pull string bags, plastic bags, and more. These fit a wide variety of the most conventional tent poles and, most importantly, can be adjusted for a firm fit that will help you to put up all your stuff in one place off of the sand, making it easy to get to without having to worry about stepping on anything or losing it.
These hooks fit any pole ranging in size from 3/4 of an inch on the low end up to as wide as 1 5/8 inches in diameter on the large side. This covers the far majority of beach umbrella pole sizes you will find.
So if you want an easy place to hang towels, cameras, bags of lotion and sun glasses, shirts or other clothing, then this is a very good accessory to add to the list.
Attachable Outdoor Umbrella Table
While not a bad idea, this is one where there seems to be some mixed sentiment on the execution. There are a couple of decent "umbrella tables" that are available via Amazon that have a solid number of positive reviews, but also have a higher number of negative reviews than any products we are used to promoting on this blog, which kind of puts us in a hard place on this one.
One option is to bring your own version of an attachable tray or cup holders that can serve the same function, while in many ways the hooks can provide most of the same storing things off of the sandy beach option, although the bottles of water, cans of soda, or other drinks might still be an issue.
So that being said there are some options. It's all about figuring out what works best for your specific needs and what doesn't. The two currently highest rated online are:
These are great places to start to find the right accessory that will help you unpack the small stuff safely and enjoy your day out on the beach, and for those of you who are the DIY types there are always options available to gerry-rig something that works for you.
Picnic Time "Beachcomber" Portable Beach Mat
While many people are just fan using the good old fashioned beach towel, there are companies who are putting out portable beach mats to offer that extra bit of cushion and comfort, while also offering designs that even mimic what you expect from a large bulky beach chair, but in this case with the portable padding tilted to be a relaxing recliner like experience right there in the sun, sand, and shade!
These flexible and comfortable beach mats are set up as shown in the picture to the left and currently come in five different color and pattern combinations. While blue and lime green come in one solid color and are popular options, personally my favorite is the "Vibe Collection" design which is pictured. I know, I know, it sounds very hippie but hey the design looks good and it looks like it sets the right tone for a great enjoyable day on the beach and that's what I'm looking for when it comes to any type of beach equipment.

Other Beach Shelter Options
While the classic portable beach umbrella is going to often be the first thing people think of when it comes to shade and UV shelter when out in the sun and sand, there are actually other options out there. Sometimes just one beach shade does the job but there are going to be times, especially when traveling in groups, where you might decide more than one is important.
If you're going beyond beach umbrellas it's time to look at beach tents or even some type of a tarp setup to act as a shade shelter. Whether you're planning on spending an entire day out in the sun or just a relatively short time period, you want to make sure you have proper shade to help protect you from the worst of the sun's scorching rays.
There's no question that it is important to make sure you have enough shade whenever you are at the beach. The damage that long term exposure to UV rays can cause is very well documented and aside from the damage (and pain) that comes from getting a sunburn, there are a wide variety of potential long term health hazards that come from overexposure to the sun over long periods of time.
In Conclusion
The beach can be a beautiful place to spend the day, to the surprise of no one, and this is why so many beaches around the world are tourist destinations that receive millions of yearly visitors. While spending a day in the water, enjoying the sand, or even enjoying some on the beach badminton or volleyball, you need shade and some UV protection to minimize the chances of getting burned. Even with a solid tan and heavy sunscreen you will want a set up shelter to take an occasional break from the sun's relentless rays, and even beyond that just the shade is a nice bonus.
So pick from the chart up above to find the best one for you, and then you'll have no excuse not to hit the beach!
Video on properly installing & anchoring a beach umbrella