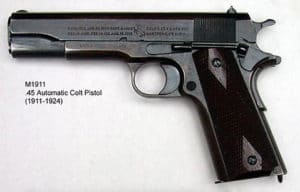 The 1911 handgun is an amazing firearm that was originally used in the United States Armed Forces in 1911. The reliability of this firearm made it a mainstay for many decades to follow. In fact, a century later, the 1911 is still a very popular model among shooting enthusiasts. This isn't just for home defense or military use, today, it's a popular choice for many recreational shooters, as well.
Some of the most popular 1911 pistols include the Colt 1911 Series, Wilson CQB Tactical LE, STI Trojan, Kimber Amethyst Ultra II, and the Colt Gold Cup just to name a few. Whatever kind you own, one thing is for sure. These firearms are fun to shoot.
However, if you're going to own one of these, you might as well invest in some quality gear to go with it. New accessories can be a great way to add to your overall shooting experience as well as build up your overall total gear to give you more options for your outdoor options whether hunting or recreational shooting. Now, although there's a lot of really cool products on the market, the items listed below are especially unique and definitely worth the buy.
Check them out and treat yourself to something new for one of the longest running and most reliable handguns out there.
What Are the Best 1911 Handgun Accessories?
This article definitely isn't keyword focused but it is aiming at the general topic in-depth. Some of these accessories are very general with others are specific. In the end all of these accessories can be very useful to a 1911 enthusiast.
Just some of the accessories include:
Top notch holsters designed specifically for the 1911 handgun
Excellent night sights
Exceptional cleaning kits
Specialty gunsmithing tools for the 1911
Custom grips and more!
Read on to see our picks for the absolute best accessories out there!
Sumtop Polymer 1911 5-Inch Paddle Holder
This is truly one amazing 1911 handgun holster. For starters, the polymer material is lightweight, durable, extremely comfortable, and very easy to clean. Mud and other firth will easily come off by simply using a damp cloth. Cleaning your 1911 holster really is just that simple. This polymer holster will continue to look great for several years to come, no matter what kind of weather you prefer to shoot in.
In addition to being built well, the 1911 pistol holster features a really clever passive retention system and has the ability to rotate 360 degrees. To add to this, the quick release button gives you the ability to pull your firearm out quickly and with little fumble or effort. When you reholster your weapon, the automatic lock kicks in and keeps your piece secure.
If you're looking for convenience, quality, and performance all rolled up into one package, then this Sumtop holster is a great purchase. Once you add this accessory to your collection, you'll understand why this product has so many positive reviews. In addition, you'll have an outstanding holster for your favorite 1911 pistol.

Real Avid 1911 Pro Pack Cleaning Kit
Keeping your weapon clean is definitely a task every gunowner should perform on a regular basis. Not only will doing this keep your firearm shooing well, you'll also prevent the metal from becoming corroded. This is why investing in the Real Avid 1911 Pro Pack is a wise decision. So, what all do you get in this pack?
First, you get a selection of brass rod sections that are easy to use and have been upgraded for superior performance. These tools really work well. You also get brass connection points, a bushing wrench, and an easy-to-use field guide as well. This whole collection fits nicely into the complementary portable case. This case is made of plastic, easy to transport, and completely waterproof. You'll be able to keep all your tools dry and organized at all times when you use this case.
If this wasn't enough, this 1911 collection also includes cleaning patches, a T-handle, a selection of brushes and jags, a spring plug stopper, and 2 slotted tips. You literally get everything you could ever need in this complete collection. We've reviewed many cleaning kits for firearms on this blog before and for good reason: they're extremely important. This particular cleaning kit for the 1911 pistol is no different.
This is one practical investment for anybody who owns a 1911 firearm.

Relentless Tactical Gun Holster
This tactical gun holster is made out of the highest quality of leather, decorated with heavy-duty white stitching, and is absolutely beautiful. The blackish shine is truly stunning while the classic brown is everything you want out of a holster and more. What you're getting here is a top of the line Relentless accessory for a very reasonable price.
Besides being well-made and having a stylish look, this 1911 handgun holster also features a 3-slot pancake design. This design allows you to carry your firearm in 3 different ways. You can holster your piece butt forward, strong side, or even behind your hip. This really is one versatile shooting accessory.
Another feature that's really impressive is the open muzzle design. This design is made to accommodate to a wide array of slide sizes. You'll always get a quick and smooth draw when you use this tactical 1911 holster. Every purchase comes with a 100% satisfaction guarantee. If you're not happy with your purchase, Relentless will give you a full refund.
Worth noting: this holster is made for both right handed and left handed shooters, a nice versatile touch to make sure more of the shooting community can enjoy what this brings to the table.

Truglo Tritium Handgun Night Sights
Shooting your 1911 handgun in environments with limited lighting can be a little tough. With the Truglo Tritium Handgun, this won't be a problem. Not only does this sight produce a bright, glowing, neon green dot in the dark, the dot can also be seen in the daytime and in foggy weather. Now, how cool is that?
The device itself is also remarkable too. Made from high-quality steel, you can feel confident knowing this 1911 shooting sight is built to withstand your basic wear and tear. The outer body is coated with a really tough Fortress Finish that offers superior protection against bumps, scratches, dings, and corrosion. The body of this shooting sight is made to fit most holsters and is customized with a snag-free design.
These outstanding sights are perfect for the ever popular 1911 Pistols and allow recreational shooters to see even when the light just isn't there. These are as good as they get and definitely add a very modern element to a traditional firearm.
This amazing handgun laser sight by Truglo is made in the United States and comes with a 12-year limited warranty. If anything should happen to your device with normal usage, you'll be completed covered. Nothing spells quality like a solid warranty.

Recover Tactical CC3 H 1911 Grip & Rail System
If you've always wanted a grip and rail system for your 1911 handgun, but you didn't want to pay a gunsmith to attach it for you, then you're in luck. This system is easy to attach, requires little modification, and can be completed within minutes. The Recovery Technical Grip and Rail System is made to fit most standard-sized 1911 handguns and makes shooting your piece much more enjoyable. You may even see your accuracy increase too.
This 1911 tactical system is made from extremely durable polymer and will not scratch, ding, or damage your handgun in any way. The CC3 grip sits comfortably in the palm of your hand and provides shooters with a higher level of control. Once you try this CC3 grip system out, you'll never want to shoot with anything else.
The complete design for this shooting grip and rail system was created by Tamir, a highly talented Israeli weapons designer with more than 20 years of successful experience. You can feel confident knowing that you're getting a top-of-the-line 1911 shooting accessory when you purchase this device.

Real Avid Handgun Smart Mat
This mat is one useful tool for anyone who owns a 1911 handgun. Whether you're rebuilding your piece or giving it a nice clean, this clever workbench accessory will definitely come in handy. So, why is this handgun mat so great?
The diagrams on the front serve as a useful guide for inexperienced gunowners. They also work well as a quick reference sheet for skilled gunsmiths. These diagrams explain how to take your firearm apart, clean it, and put it back together again. The step-by-step instructions are easy to follow and understand.
Another feature that's absolutely fantastic is this convenient little parts tray. You'll never have to worry about loosing another pin, spring, or screw again. There's several different sized compartments for a random array of parts, and the tray itself is magnetic. When you use this crafty smart mat by Real Avid, you'll enjoy a frustration-free experience.
The cleaning mat itself is quite impressive as well. The surface is extremely soft and won't scuff or scratch your weapon. The best part? The surface is oil and solvent resistant. This means cleaning up a spill is a very easy, quick process. This is one 1911 accessory you'll definitely want to add to your collection.

Pachmayr American Legend Grips for the 1911
Shooting with an extra sturdy grip when using the 1911 is not only great for increasing your accuracy, but a better grip will also help improve overall gun safety. However, it's important to invest in a product that fits comfortability in the palm of your hand, and the Pachmayr American Legend Grips are definitely a great choice.
These handgun grips feature a wood-styled shell with a rubber grip. Once you attach this piece to your 1911 and hold it in your hand, you'll see why so many shooters love this product.
Attaching these 1911 pistol grips to your firearm is not a hard job either. There's no permanent modifications and the whole process can be completed within a couple minutes. Once you do, you'll be glad you did. These Pachmayr grips are available in three different colors, rosewood, charcoal silvertone, and heritage walnut.
This is one accessory you'll definitely want to add to your stockpile.

The Defender Leather IWB 1911 Firearm Holster
If you like leather, then you will absolutely love this 1911 firearm holster. This beautiful piece is made out of 100% genuine USA bull hide and features an absolutely gorgeous shine. This well-designed holster by Relentless comes in either black or brown, and both colors are available in a right-handed and left-handed style.
Besides looking great, this tactical gun holster also sits on the inside of your waste line and is extremely comfortable to wear. By keeping your firearm inside your waste line, your piece will be more secure and protected from potential threats.
Plus, drawing your weapon is a really smooth and quick process. This leather 1911 holster is one of the most impressive options on the market today, blending traditional look and style with modern use and convenience.
When you invest in this bad boy, you'll get a lifetime warranty with it. This means that you'll only have to purchase a holster for your 1911 firearm once in your life. If anything would ever happen to your prized possession, you'll be taken care of.

Real Avid 1911 Smart Wrench
There's nothing more frustrating than having the recoil spring in your 1911 handgun go flying after you remove the bushing. Once that spring shoots in some odd direction, finding it can be quite a challenge. By using the Real Avid Smart Wrench, you can prevent this from happening. So, how does this unique little tool work?
Simply put the barrel of your firearm directly down onto the 1911 pistol smart wrench and give your piece a turn. Once the bushing becomes loose, this wrench will catch the recoil spring. The process is really that simple and convenient. No more getting down on your hands and knees searching for missing parts.
This amazing little device works with both 1911 Government, Commander, and Office firearms. The body is constructed from a durable resin and won't break or bend after multiple uses. The outer ring is made from a high-quality rubber and will not scratch or scuff your guns. This is definitely a useful little tool you might want to consider spending your money on.

Pearce Rubber Grips for the Colt GM 1911
Anyone who owns a Colt GM 1911 handgun should really think about investing in this rubber grip by Pearce. This is one fantastic accessory that'll give you more control when you shoot. In return, you'll also see the accuracy of your shots improve. If you want to take your game to the next level, then give this device a try.
The Pearce Rubber Grip can be used with a wide array of side panels. This includes ivory, wood, metal, and plastic. The process of attaching the grip to your Colt GM 1911 is quite easy and requires no permanent modifications. You don't have to be a skilled gunsmith to get the job completed right.
The best feature about this rubber handgun grip though are the precise finger notches and the way this device feels in your hand. You'll always get a tight grip and a comfortable shooting experience when you start utilizing this useful handgun accessory.

1911 Industries Pro Series Grip Screws & Bushings
This 1911 Industries Pro Series Kit is an extremely useful collection for a very reasonable price. This handy little set includes 4 hex head grip screws, 4 grip screw bushings, and a convenient little hex key. You have everything here you could possibly need.
The thing that really makes this little set a great buy is the quality of the metal used in the design process. Both the bushings and the screws are made from the finest steel and have a tough oxide outer coat. This outer coat helps prevent corrosion from eating away at the metal.
You'll also be happy to know that this handgun screw and bushing set works with all standard 1911 firearms and are made the right here in the USA. What you're getting here is the very best in product, design, and overall quality.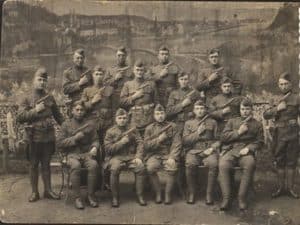 A Brief History of the 1911 Handgun
Designed by John Browning himself in the late 1890s, the 1911 was a solidly designed handgun that was well ahead of its time and created with a solid design and high quality that would create a long lasting standard creating the incredible handgun that has become so popular with soldiers and recreational shooters for over a century.
Although developed in the 1890s this handgun design is referred to the 1911 because that was the year it was adopted by the military, and this strong, accurate, and reliable firearm was so popular it would remain the standard military firearm in the U.S. for over 70 years, all the way until 1986. Military and civilian models were designed and over the decades this reliable firearm also became incredibly versatile. This allows for the changing out of grips, sights, triggers, and other customizable features to create a 1911 that really fits the shooter.
While this is no longer a service weapon for the United States military, it is still used by dozens of other nations around the world and that is a trend likely to continue for decades to come. If you want to learn more, there are many fantastic resources online that go into a lot more detail about the 1911 handgun, its history, past and current uses, and more.
A couple more resources to look at that we'd recommend include:
In Conclusion
There are many different handguns available on the market, but only one that has seen over 100 continuous years of service that includes multiple militaries across the world. While there is a seemingly endless array of customization options that lead to multiple versions that often look like different guns at first glance, the durable build, exceptional quality, and remarkable versatility of the 1911 handgun has led to a remarkable history that is sure to just continue for many years to come.
Great Video on 10 Classic 1911 Handgun Historic Facts

Some other shooting articles of interest: