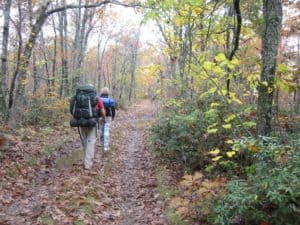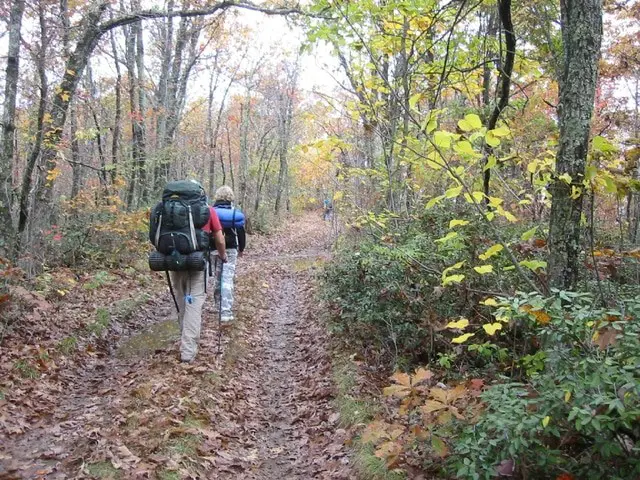 If you're the type who likes to camp in really isolated country or even spend multiple days backpacking and hiking, then suddenly the weight of your pack matters a lot more than if you're just going for a few miles here or there. While tent camping still tends to be a more widely used choice, hammock camping has definitely been spreading in popularity both inside and outside the ultralight backpacking community.
Anyone who has looked at doing a thru hike, who has finished a long-range backpacking trip themselves, or is active in the ultralight community understands that getting the pack down as light as possible is crucial.
While a couple ounces might not seem like much, they really add up. Especially if you are putting hundreds of miles on your feet.
The idea behind the question of "Are hammocks lighter than tents?" is to find a comfortable sleeping solution that also is light on the pack and therefore easier on your feet. While the first bit of research might seem promising, the problem is that the bottom line rarely comes out so friendly when straps, pads, carabiners, and rain flys are figured in.
So are hammocks lighter than tents? This is a classic "Yes with an asterisk, no with a 'but'" type of answer. However since the REASON for asking this is almost certainly associated with ultralight backpacking or hiking the answer is no, they are not. A full hammock setup will be around the same weight than the average ultralight backpacking tent. We'll do a deep dive into the numbers to give you the full story.
When it comes to the hammock vs tent argument, it turns out that when it comes into ultralight hiking sometimes ounces actually are NOT the final verdict maker when it comes to the best gear option.
Hammocks Vs. Tents: Which Is Better for Ultralight Backpacking?
One of the most important things to realize right off the bat before answering this question is that there's a big difference between cheap backyard tents, heavy duty camping tents, and tents that are specifically designed to be lightweight for hikers and backpackers. That third group is the one that we're most interested in.
After all, if you're asking about weight, there's a 99.9% that your concerns are about the weight of your pack so if you're considering a tent you're not going with a heavy duty canvas tent, a large tent for big families, or something that's going to be torn apart at the first sign of barely inclement weather.
So are hammocks lighter than heavy duty camping tents? Yes, they generally are.
Are hammocks lighter than small ultralight backpacking tents? No, they generally aren't.
Since the main focus on weight is going to be if you're carrying a pack day after day during mile after mile of a long hike, we're going to focus on comparing the weight of actual tents for hikers and tents for backpackers. After all the base of this question is a gear comparison for ultralight hikers, so we want to try to give you the best and most accurate possible answer in that context.
Are Camping Hammocks Lighter Than Tents?
So let's take a look at some of the most popular hammocks and tents and the trail pack weight of each.
Important note for the chart:
Some prime information on ultralight backpacking hammocks vs ultralight backpacking tents. It's noted when the numbers include a mosquito net which is not considered basic accessories for hammock, or common accessories like carabiners and straps (but generally not rain fly). Tents normally include ALL weight: tent poles, stakes, rain fly, everything, although some differences may be noticed with certain models/designs.
| Hammock | Weight | Tent | Weight |
| --- | --- | --- | --- |
| Eagles Single Nest Hammock | 16 oz (No accessories) | ALPS Mountaineering Lynx 1-Person Tent | 53 oz |
| Wise Owl Outfitters Single Hammock | 16 oz, 22.5 w/ accessories | Winterial Single Person Personal Bivy Tent | 41 oz |
| Honest Outfitters Single Hammock | 16 oz (No accessories) | TETON Sports Mountain Ultra Tent | 52 oz |
| Ridge Outdoor Gear Camping Hammock (w/ mosquito net) | 27 oz small, 34 oz large both w/ accessories | River Country Products Trekker Tent (not including poles) | 44 oz |
| Gold Armour Single Camping Hammock | 24 oz w/ accessories | Kelty TN 2 Person Tent w/ rain fly | 73 oz |
| Heavy Duty Easthills Outdoors Jungle Explorer Double Hammock | 36 oz w/out rain fly, 60 oz w/ rain fly | Texsport Willowbend Trail Tent | 64 oz |
| Winner Outfitters Double Camping Hammock | 20 oz w/ accessories | ALPS Mountaineering Zephyr 1-Person Tent | 58 oz |
| Bear Butt Double Parachute Hammock | 26 oz | Snugpak The Ionosphere 1 Man Dome Tent | 54 oz |
| Legit Camping Double Hammock | 32 oz w/ accessories | SE Emergency Outdoor Tube Tent (Emergency Shelter, not recommended for long-term camping) | 26 oz |
At first glance there is a lot here suggesting that the hammocks make more sense for backpacking because of the weight savings but let's take a closer look. First, the pure numbers:
Heaviest Hammock Weighed: 60 oz (34 w/out rain fly)
Heaviest 1 or 2 Person Backpacking Tent Weighed: 73 oz
Pure Avg of Weighed Hammocks: 25.2 oz
Pure Avg of Weighed Tents: 52.0 oz
More Accurate Avg Median Weight of Hammock with Accessories: 27.8 oz w/out rain fly, 43.8 oz w/ rain fly
More Accurate Avg Weight of Tents with Accessories: 60.7 oz
So hammocks are a winner, right? Not so fast, my friend!
Well…how much do you like dealing with mosquitoes? How much do you care about getting rained on? These are actually pretty serious questions because they are a major part of the weight differences here. 
First of all in the pure averaging many of those hammocks have no mosquito netting, no rain fly, and some of those numbers didn't even include necessary equipment like carabiners and hammock straps. The average mosquito netting will add 12 oz, the average rain fly will add 14-16 oz. That suddenly pushes the hammocks up to around the same area as the tents.
If you add mosquito net and rain fly, the difference is about 10 oz between tent and hammock. If the hammock is a two person hammock because you're a larger person or just needs that space to be comfortable, you close up most of that weight. In fact, there's a big discussion about that in this Reddit thread under the ultralight hiking section.
Hammocks can be slightly lighter
If you're hiking in the fall during cooler weather or in elevations/environments where mosquitoes are not a major issue then you can ditch the mosquito netting and save those ounces while on the trail. Hammocks do also tend to pack down in a compact way easily, making them more versatile in how you can put them into your pack.
There's a reason why hammock camping has become increasingly popular and is being increasingly being a great way to get a comfortable night's sleep – which is always important but even more so on long-term hikes.
So depending on the accessories that are needed, hammocks can be slightly lighter and this can be a good option for wooded areas, but there are some potential drawbacks.
Why You Still Might Want a Tent Instead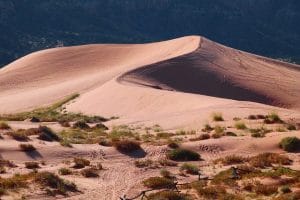 While some of these numbers can tempt you to think that that the hammock is hands down the way to go, there are many people who disagree. If you look at two really popular YouTube hiking channels, Homemade Wanderlust featuring Triple Crown hiker Dixie, and Darwin on the Trail, have both done videos on why they are sticking with tents.
You can find Dixie's video on the topic HERE, and Darwin's is embedded at the end of this article for easy viewing. 
While there are others who may disagree, it's true that hammocks do tend to be lighter than tents, even with all the accessories figured in for both. Although the difference once mosquito netting and rain flys , in many cases the tent is going to be the better option for those who don't want to cowboy camp, either.
The picture right up above is another example of a common problem that can take place if you'll be hiking in areas without a lot of trees. Trust me, a camping hammock isn't that comfortable when you're rolling it over yourself on the ground.
At the end of the day the biggest argument in hammock vs tent isn't going to be about weight. In most cases you will want a rain fly and a mosquito net for the hammock, which will bring you within 10 ounces of most small tents, and make some hammocks even an ounce or two heavier than the tent option.
This is about comfort of sleeping versus versatility of use. Hammock sleeping is often more comfortable but you are more limited. However if you are always tackling long trails with many types of terrain then tents are the way to go.
In Conclusion
Generally speaking a camping hammock will be a little bit lighter than a small tent, especially if you are going with a single and don't need mosquito netting. That being said, that doesn't mean it is going to be the right choice for a hiker or backpacker. Some people love ultralight backpacking with a hammock – but it's usually about a better night's sleep and feeling refreshed versus saving any weight off of the pack.
If you are really comfortable sleeping in a hammock and hate the ground, a hammock might be worth it because of the better sleep whether it is the same weight or even slightly more. Just make sure you always have the ability to set it up because you're going to need those trees to set up properly!
At the end of the day, the setup that keeps you hiking with the most energy and comfort possible 
You'll Also Love…