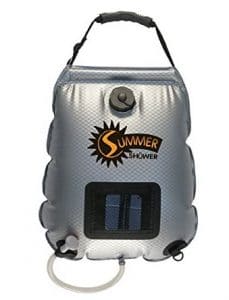 Solar showers are a neat invention. The concept behind them is so simple. You fill up a specially designed bag with water, you leave it in the sun, the sun warms up the water, and you can use that water to rinse yourself off!
We are often asked what are the best solar camp showers? The answer to that question is the Advanced Elements Summer Shower – and that is why we wanted to do a full Advanced Elements Summer Solar Shower Review. 
And if you have been a long time reader of our site, you probably already noticed that we had this solar shower bag on the top of our list of solar showers: The Best Solar Camp Showers.
Basically, this review of the Advanced Elements Summer Shower will show you why it is our top pick, the different options you may choose from, and other interesting information that you might want to know about!
Why Advanced Elements Solar Showers Are so Highly Rated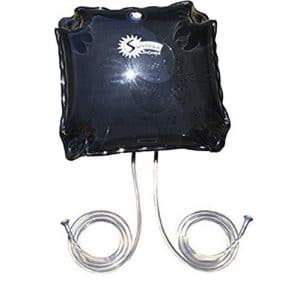 There are a lot of reasons why Advanced Elements Solar Showers are so popular. It starts with the way they are built. These bags are very durable, but they are also built with a 4-layer construction (Reflector Panel, Insulator Panel, Solar Panel, Water Reservoir) – all designed for optimal heat retention and with optimal performance in mind. There is one exception to the 4-layer construction and that is the PVC Free option will detail by itself in just a little bit. 
It has a high-quality rubber handle that makes these bags easy to transport, easy to hang, easy to lift, and easy to grip. People often overlook the important of having a good handle on a solar shower. A gallon of water weighs 8.34 pounds – so if you fill a solar camp shower with 5 gallons of water it is going to weigh over 42 pounds. You want a handle that will allow you to carry that weight and eliminate discomfort.
Other popular features for these solar showers include an extra-large filling valve (love the size, makes it a lot easier to add water to) that has a twist off cap. It has about an 18-inch hose that connects out from the bag with an easy to use shower head that has the on/off switch on it (the 10 gallon option does have two hoses instead of one, and they are a little bit longer).  
There is also a water temperature gauge, Velcro straps to hold things like a washcloth, and even a side pocket that you can put things like soap or little bottles of shampoo in. They really thought of everything when they designed the Advanced Elements Solar Camp Showers.
When you are finished using your solar camp shower, you can simply roll it up for easy storage.
Advanced Elements Summer Solar Shower Options
Another one of the major selling points behind these solar showers is the amount of options you may choose from. If you are camping by yourself, the 2.5-gallon option will provide more than enough water. If you are going on a big family camping trip, the 10-gallon option might be a better pick for you. 
Of course, the most popular option is the 5-gallon version. Whatever your needs might be, here is a quick chart outlining the options you do have. 
The Advanced Elements Solar Shower Options
The Advanced Elements 5 Gallon PVC Free Solar Shower Reviewed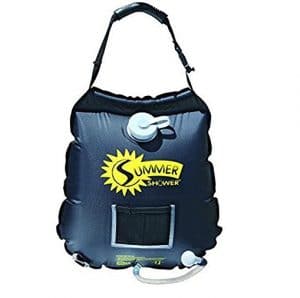 The Advanced Elements 5 Gallon PVC Free Solar Shower is so different than the other options it really does have to be reviewed separately. I don't want you thinking you are getting the exact same solar camping shower with this option as you are with the others; because you aren't. 
Obviously, the biggest difference is this version is PVC free – which is a big selling point. PVC does contain some chemical additives that can be harmful to children's health. To make this version PVC free, it has a 2-layer design and construction versus a 4-layer design and construct.
The 2-layer design does have some effect as to how quickly it will warm the water, how long that water will stay warm, and it does slightly affect the overall performance. It is still a very high-quality solar shower even with just the 2-layer design, and the PVC free materials can be a major positive factor for picking this option.  
Pretty much all the other elements of this solar shower are the same as the 2.5 gallon, 3 gallon, and 5 gallon version. It still has a great handle, water temperature gauge, Velcro straps and pockets, and all those other bells and whistles that people love about this product.
Quick Recap on Why to Buy an Advanced Elements Solar Shower
Here is just a final bulleted list of the main reasons why you should buy an Advanced Elements Solar Shower vs Coleman Solar Showers or some other brand
Durability – You just can't beat the durability you get with these options.
Design – From the bells and whistles like Velcro straps and little storage pockets, to the durable rubber handle – this was a well-thought out design that makes this option the best.
Variety – You have four different sizes plus a PVC Free model to pick from. This should ensure that you have a solar shower that will work for your outdoor adventures!
Cost – These solar showers are more expensive than Coleman solar showers, but when you compare the design, durability, and other features that come with Advanced Elements – this is the best choice!
I also like the fact that Advanced Elements was a company started about 15 years ago, and their current corporate offices are near San Francisco, CA. They state that their goal is to make innovative and well-design products at the best price possible – while not sacrificing things like customer service. I would say they have done a great job of achieving those goals.
Hopefully this detailed review of Advanced Elements Solar Camp Showers has given you the confidence you need to add one to your outdoor equipment repertoire!